PLAYER PROFILE: Gus Scott-Morriss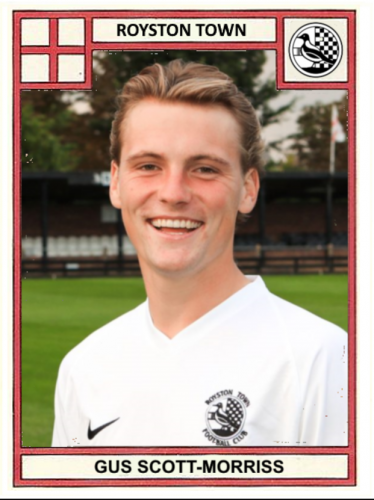 Fullback Gus Scott-Morris is the next player to be featured in our Player Profile series. Read on to find out which player ran rings around him and what his favourite thing about Royston Town is…
Name: Gus Scott-Morriss
Nickname: Gussy
Twitter handle: @GusScottmorriss
Previous clubs: None – I'm a one club man – Royston Town
Favourite Team: Chelsea FC
Favourite current player: Eden Hazard
 Favourite player when growing up: John Terry because of his desire to win, and willingness to put his body on the line in every game.
Favourite Away Ground: Hereford, being a full back I don't score that many, so slotting a penalty top bins, in front of a few thousand, makes it my favourite away ground !
 Most memorable moment in football: I have two, winning the league with Royston Town in 2017 and reaching the 4th round of the FA Youth Cup with Royston and playing against Arsenal.
Biggest disappointment in football: Other than my first touch … it's got to be leaving Tottenham when I was younger.
 Best player you've played with: Two stand out for me… Josh Castiglione and James Potton. Having played with Josh for five years, and him being a winger and me being a full back, he always seemed to get the better of me in training. And JP  never seems to miscontrol the football, and always seems to amaze when on a football pitch. He's a joy to watch and a defenders nightmare.
Best player you've played against: Dan Crowley of Arsenal, in the FA Youth Cup. I've never chased a player round the pitch like him, every time I was near him, he would either flick it round me or nutmeg me!!  
Best thing about Royston Town FC: Other then the burger van…the lads are top drawer!