HALF-SEASON TICKETS NOW AVAILABLE – save up to 54%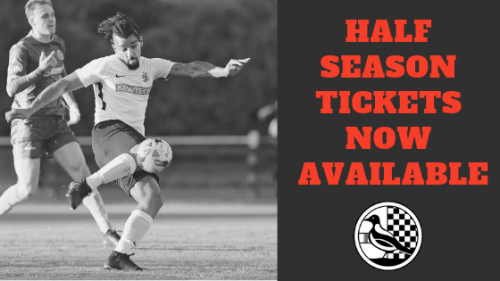 The Crows have enjoyed a strong start to the 2018/19 season, progressing in the Buildbase FA Trophy and currently sitting in the play-offs positions in the League. And supporters can now buy a Half-Season Ticket to ensure they don't miss a moment of the remaining action in the Evo-Stik League South Premier Division Central.
Mouth-watering League clashes against Stourbridge and Kings Lynn as well as our New Years Day clash with local rivals Hitchin Town are all included in the Half Season Ticket as the Crows look to produce a strong second-half to the season. However, if you order yours before 15th December then you will also be able to gain entry to the Alvechurch game on 22nd December – giving you 11 games instead of 10.
HALF SEASON TICKET PRICES:
Adult Half-Season Tickets £80 – a saving of up to £30 (27%) on Match Day admission prices
Concession price just £40 – a saving of up to £26 (39%)
Kids tickets are only £10 – a saving of up to £12 (54%)
Don't delay in securing your Half-Season Tickets by clicking here.