PLAYER PROFILE: Daniel Brathwaite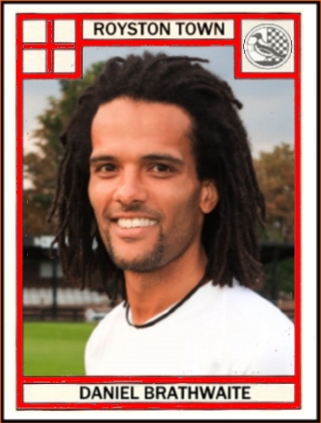 In the first of what we hope will be a new series of posts we asked club captain Daniel Brathwaite a few questions about his life in football, boyhood heroes and what he thinks of life with the Crows…
Name: Daniel Brathwaite
Nickname: Brathers 
Twitter handle: @brathers_3 
Previous clubs: We could be here a while!
Berkhamsted Town FC, Enfield FC, Chesham United FC (3 times), Borehamwood FC (twice), Hemel Hempstead Town FC, Dover Athletic FC, Ashford (Kent) Town FC, Hayes & Yeading United FC, Wingate & Finchley FC, Royston Town FC 
Favourite Team: Spurs!
Favourite current player: Jan Vertonghen – for his composure and being consistently consistent!
David Silva – little magician, and seems to get better with age!  The way he performed last year through personal adversity shows immense character, courage and no little talent.
Favourite player when growing up (and why): I would have to say Gazza!  My earliest memories are of him with the ball at his feet as if it was on a bit of string, taking on teams almost singlehandedly.  Then there is the FA Cup semi-final free kick at Wembley!!  In addition, his all-round off the wall character (i.e. the dentist chair celebration – love this guy!).
Although Stuart Pearce was not a bad player either, albeit the opposite end of the grace and skill scale.  Total commitment and passion, one hell of a defender.
I did not have the luxury of watching all of the European games when I was younger, but if I did then the likes of Paolo Maldini would have been right up there – different class.
Favourite Away Ground (and why): Upton Park – I was lucky enough to play here (long before it was demolished!).
Crabble (Dover Athletic) – Nice pitch, big non-league crowd who expect to win, and generally a successful side; all of which make it a tough challenge.  Therefore, I have always loved going back there to try to get one over on them!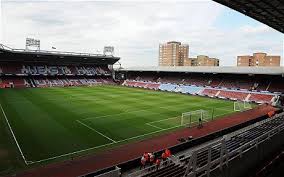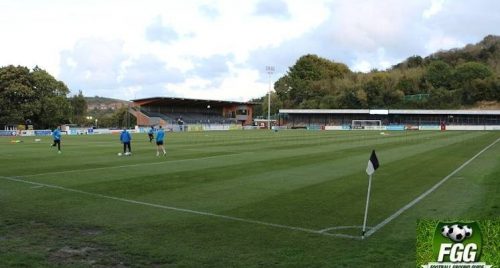 Photo courtesy of FootballGroundGuide
Most memorable moment in football: There have been so many over the years, a lot of which could not possibly be aired on a public forum!  Not to mention the many characters (!) I have come across, and friends made; some still with us, some not.
However, if I had to choose one it would probably have to be reaching the FA Cup 1st round proper with Borehamwood in the 2003/04 season (knocking out Kettering in the 4th Qualifying round!).  This run had plenty to do with Steve Brown (the Manager at the time) and Ryan Moran (whom I played alongside), both very, very good at what they did.
Biggest disappointment in football: There have been a lot of these too…from relegation to lost Play-Off Semi Finals and Finals.
However, the one that sticks out is being told as a 19 year old that I would not be given a professional contract.  That was a wakeup call that I wasn't ready for – not that I had expected to be given a contract necessarily, rather that I had been in a bubble since leaving school and was not at all prepared for what was about to happen!
Best player you have played with (and why):  James Potton – the things this guy does in training are a joke!  I remember one of my first sessions after I had joined Chesham, playing a small-sided game with full size goals, and within the space of about 2 minutes he had put the ball in the stantion 3 times, twice with his left foot and one with his right!  I'm looking around at him thinking – who the hell does this guy think he is!?!  Soon I realised it was just normal.  You have to have something about you scoring more than 20 league goals in a season, and not even being a striker!
We maybe have not seen the best of him yet during his time with us, but I am sure it is coming.
Lee Cook – the guys left foot was a wand…!  And he was never quick, but he would just glide past people with a little shimmy or shift the ball and be gone.  You could never get the ball off him either, he had Velcro on his boots I am sure.
Best player you have played against (and why): Very hard to go with one!  I will have to say two if I can?
Jermaine Defoe –   Not sure it even needs explaining!  However, the movement and sharpness of him is unreal, as well as his instinctive finishing…you think you have him then a second later the ball's in the net.
Les Ferdinand – He was a beast!  The way he used his body to protect the ball and the timing of his headers especially were a lesson.  As a 17 year old to play against a current England international, as he was then, was a privilege and a great experience.
Best thing about Royston Town FC: That you can leave!!  Just kidding…
The dressing room.  I have been in a few good ones, but this is definitely up there.  We have a great group, a very good mix, and by that I do not just mean colour!
We have a few moany f****** (mostly about their fines!), some quiet ones, and some not so quiet!
However, when we are on it we all know what we can do, it is down to us to push ourselves and be the most consistent team in the league to achieve success.
The pitch is not bad either – if you could just level it out that would be ideal!  😉