Teammates – Who's got the worst dress sense at the Club?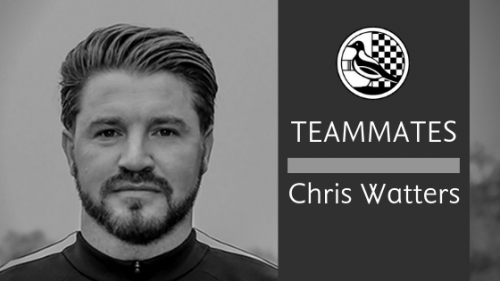 In the first Royston Town Teammates article –  a format shamelessly stolen from Sky's Soccer AM! – Assistant Manager, Chris Watters provides the low down on the First Team squad and reveals some interesting answers…
First up, who's the best trainer at the club?
It's got to be whoever is being marked by Spyros!!
Quickest player?
This one has got to be a tie between Rohdell Gordon and Vance Bola. They hold hands and do everything together so it's lucky that they are just as quick as each other.
And the slowest player?
I think that most would say Gus Scott-Morriss or Corkers (Sam Corcoran) however my theory is that they only run slowly so that the wind doesn't show their true hairlines…
Club Hardman?
This one's easy – Adam Murray. The way that Muzza has his hair at times you've got to be be able to handle yourself to get away with it.
And who's blessed with the most skills?
JP (James Potton)
Footballers aren't renowned for their brains but who would you say was the most intelligent in the team?
I'd say it's got to be Scott Taylor. He's somehow managed not to buy a round at the bar since I signed – clever lad!!
And moving to the other end of the IQ scale who's the least intelligent?
Gus Scott-Morriss – giving Gus instructions on the pitch is often like trying to do a Rubik's cube blindfolded.
Who's got the worst dress sense in the squad?
This is a little unfair as he only has the charity shops in Royston High Street to pick from but I'd say it's got to be Ingers (Ryan Ingrey) 
And who fancies themselves as the team joker?
Corks is normally the one-man comedy show before the game
And finally, who is the 'Teachers Pet'?
It's hard to pick just one out but as Spyros, Josh and Gus all work with the Gaffer they always do as they're told to avoid getting the sack!
Many thanks to Chris for taking the time to answer our questions. There'll be some more Teammates articles across our various teams in the coming weeks!