This Sunday we're going PINK again at Garden Walk!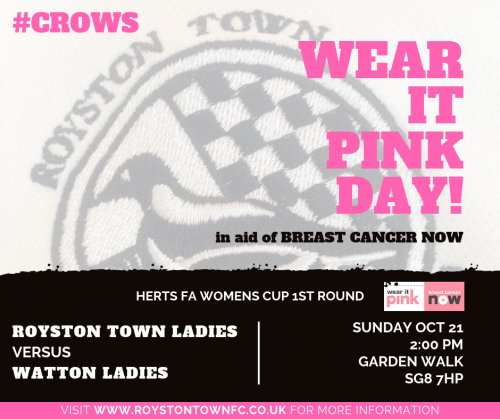 We're going PINK again!
This Sunday, October 21st, our ladies team is following in the footsteps of our First Team. The Royston Town Ladies upcoming Herts FA Women's Cup First Round fixture against Watton Ladies has been designated as WEAR IT PINK DAY in aid of Breast Cancer Now.
The Ladies team will be wearing pink armbands and pink socks. We're hoping that as many of our fans as possible will join in by wearing something pink and help us raise more money to help make life-saving research happen.
Why are we doing this?
Right now, breast cancer is at a tipping point. More women are surviving. But more are being diagnosed than ever before. Over 55,000 women are diagnosed with breast cancer each year in the UK and one in eight women in the UK will face breast cancer in their lifetime. And every 45 minutes, another woman dies from the disease.
But you can help change that!
Breast Cancer Now is the UK's largest breast cancer charity and they fund research that is entirely focused on breast cancer and their aim is that by 2050, everyone who develops breast cancer will live.
They are funding around £25 million worth of cutting-edge research, supporting nearly 380 of the brightest scientists to make the discoveries needed need to stop women dying from breast cancer. But they need to invest a further £300 million over the next 10 years to make this a reality.
What can you do?
Please come along and support your local team and this great charity by wearing something pink to the game. There will also be other fundraising activities happening. If you can, please spread the word amongst your friends and family and help us raise as much as possible for this great cause.
We will be WEARING IT PINK on October 21st. Come and join us and help save lives!