Crows On The Road: Jez's report
Crows Rule The Roost At The Ash Trees
Crows at
Ashford Town (Middlesex)
Saturday 9th November 2013
Result: Ashford Town (Mddx) 0-2 Royston Town (Hammond, Ingrey)
Attendance: 75 (15 Travelling Crows)
The TT team left Royston at around 12.45pm to allow enough time for the Worlds biggest Car Park that is the M25. We needed not to worry as the road flowed as graciously as a bottle of Moet and we arrived at our destination at 2pm. One thing of note, do BMW drivers all have a lobotomy at purchase? There is a common link to drive as close to your tail as possible, use a mobile phone whilst driving and overtake at the most dangerous possible place.
A quaint little place is the Robert Parker Stadium. Upon arrival you had the option to park your motor in either a muddy field or a road. Although a hike, I chose the road option as I do like to keep my shoes clean.
The Clubhouse although small, was clean and inviting. Really friendly people who made you as welcome as possible. You did have to take your chance on entering the doorway as there was a regular drip, drip, drip of water. The locals informed me that this gets you every time!
The pitch looked fantastic which is no mean feat after the amount of water that had fallen. Well done to the ground staff!
Now to describe the ground itself, both ends of the ground were uncovered terracing with one being described as 6 inches wide! Not much space and more concerning was the Massive tanks of aviation fuel being stored in them. Did not see any signs for "No Naked Flames" though.
On one side of the ground you could discover a single seated stand with ATFC spelt out in blue and white. I still have not had the question answered about why the colourings were this and not Tangerine in which the club play in?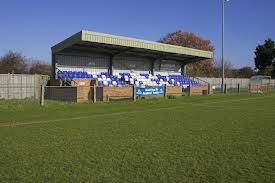 The side in which myself and the Crow army took shelter held more seats and then a covered terrace. I was informed by Swifty the tannoy chap that this was the home area but we were more than welcome to stay, which we did and a good atmosphere was created.
Food and Drink
Very good fare was served by the Ash Trees. Neil commented on his quality pie and I enjoyed an excellent bacon roll served in a very fresh bap.
Tea was excellent and the crocked players agreed that this was probably the best example of quality football food in our league.
£2.00 for a pretty good read, although a little confusing as the Royston Town pen pics included Tommy Malins, Matt Standen, Lee Wilson and Will Norris. It was like going back a season! Lots of facts and I did enjoy reading their match reports.
Again, you could not fault these facilities. The ones inside the club house were clean and fresh although the décor could perhaps be looked at and I would imagine the floor will get into a state when wet.
The outside toilets were situated in a newish brick building. Gentlemen you could stand and do your business with a photo of Gazza's nuts being grabbed. Surreal or what?
Did not hear any music, but we all chuckled at the effort Swifty put in when reading the Calor advert! Said with passion and no hint of sarcasm whatsoever! He even asked me to read the Crow's substitutions!
A low turnout, but that had something to do with a significant cup tie being played up the road at Brentford. Those that were there cheered their team and were passionate for them. Lots of "C'mon you Ashford" could be heard.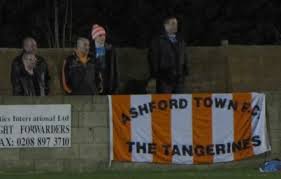 Loud to say the least. Got behind the side and created a really good atmosphere with the home side. I don't think we will be receiving a Christmas card from their Number 3 though. Will explain shortly!
Without a doubt this was the best team performance of the season. The Crows were down to 10 men fairly early on after a shocking referee performance which resulted in the dismissal of a man from both sides. The Crows saw Lewis Endacott depart for a lunge on an Ashford player and the home side saw Qaseem Sotonwa dismissed for two altercations. The number 3 really had his card marked by the referee for his confrontation at half time.
The man in the middle seemed unfit and was determined to be the centre of attention.
In regards to the match, well it was a credit to this league, a thoroughly entertaining match in which the performance of the home side made a mockery of their league position. It was a fair and committed battle by two sides desperate for the points. The Crows took the lead shortly after the dismissal of Lewis and held on for half time looking fairly comfortable.
The second half saw Royston withstand a battering from the home side. George Lawton was outstanding again making some worldly saves throughout. Taylor Parr and Sam Spencer were quality with both players beginning to show their qualities. Fair play to the home side though and with a little bit of quality with their finishing they could quite easily have shared the points or even have won it if they had made the extra man advantage count.
Ryan Ingrey rounded off an excellent team performance after substitute Ada Cambridge played him through. Tactics spot on, commitment spot on and quality spot on. A very good afternoon's work.
You can tell winter is a coming as Kim seems to be piling on the layers now! Only saw their physio once, but I did manage to have a brief chat to her before the game. Did not get a chance to pass on my mobile number though. Swifty, do me a favour please!
I cannot emphasis enough how good a team performance this was in tricky conditions. Taylor Parr had another excellent game and Sam Spencer is beginning to prove his detractors which include me, wrong. However for some absolute world class saves and in my eyes winning the points for the Crows, this accolade must go to George Lawton. Immense, absolutely immense.
Mileage for me so far (Round Trips)
Jez Izod (With additional reporting from Neil Mudie)