On The Road With The Crows
Next Up: "The Ducks" Of Aylesbury United FC

Crows at Aylesbury United FC
Bell Close, Lake Street, Leighton Buzzard, Bedfordshire, LU7 1RX
Kick Off: 19:45 Wednesday 25th September 2013
The Calor League, Division One Central
______________________________________________________________
So after Saturday's victory against a poor Chalfont St Peter side we now renew old rivalries with the Ducks of Aylesbury United.
We went to Aylesbury last year did we not? Yes Crows, we did, but to face the upstarts of the Vale and not the famous club of Aylesbury United who had the likes of Cliff Hercules, etc adorn the old Buckingham Road pitch.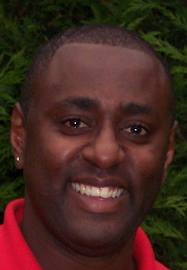 Cliff Hercules…. A legend round Buckinghamshire parts
So what can I tell you about the town of Aylesbury? Well it's in Buckinghamshire for a start and the name is of old English origin. Originally called Eglesburgh meaning Fort of Aegel, but who ever Aegel is they have not got a clue. Perhaps he is buried under a car park somewhere and will be dug up in the near future. Cue protests of where he should be buried.
The Town was also a stronghold of the Ancient Britons, can understand why, it's beautiful around these parts with house prices to go with it.
Ducks is the theme around here, remember that Duck celebration of their famous Cup runs, well it's because Ducks were bred in these parts, not Bulls, not Cows, not Sheep, Ducks!
More recently in the 1960's it was the place where the Great Train Robbers were tried and convicted at the Crown Court.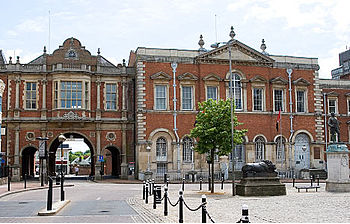 You really do not want to end up here… Aylesbury Crown Court
Famous people of these parts include the actress Lynda Bellingham from the Oxo cube adverts, Mark Webber of Formula 1 fame and the singer/song writer with the falsetto voice, Martin Grech who has worked with likes of the Cure and Nine Inch Nails. Older Crows will struggle to know these groups, but as "I is dawn wiv da kidz" I know exactly who they are.
HISTORY

A club with a lot of history that has fallen on hard times in the recent past, they are beginning to re-establish themselves with the aim to find a new home back in the town. Yes Crows another ground share team, I'm sure you will all join with me in wishing them good luck with that.
The Ducks were formed in 1897 after a merging of Night School FC, the Printing Works and Aylesbury Town. They wore the traditional green and white that they still wear to this day.
They played in the Delphian, Athenian and Corinthian Leagues before turning semi pro and joined the Southern League in 1976.
Their most successful period was between 1985 and 1993 when under the management of Trevor Gould, the club reached the FA Cup 1st round proper every season. They also achieved promotion to the Conference in 1987 before being relegated to the Isthmian League.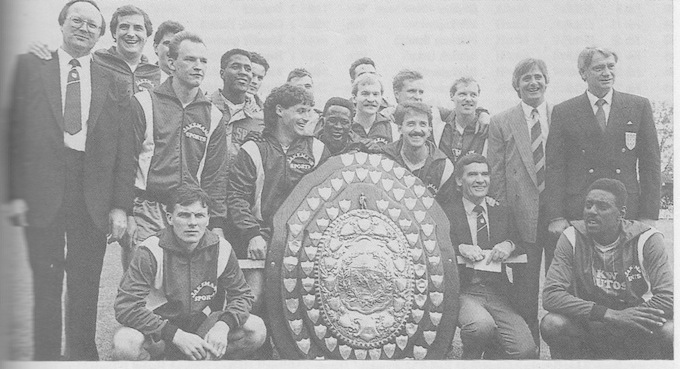 Aylesbury United FC 1987 Southern League Champs.
They famously met the full England National team as part of the warm up for the 1988 European Championships. The "leg-end" that is Sir Cliff of Hercules nearly scored in front of 6,000 people as the Ducks were grounded 7-0 at Buckingham Road.
In season 1994-95 they reached the 3rd round proper of the FA Cup and met then Premiership side QPR at Loftus Road, this is where the Duck Walk celebration came to fame and ended up on that fine BBC production of "I think it's all over" hosted by David Baddial and that Tesco bag supporting Character who shall remain nameless. (I refuse to listen to his radio programme or watch anything on the TV out of protest, how sad am I?)
When Cliff Hercules called it a day, things started going badly wrong for the Ducks as the club were relegated in 2000.
Season 2003/04 saw a desperate fight for survival with three permanent managers and two caretakers being appointed to the role. The club finished in 24th place, ten points behind their nearest competition and were relegated to Division One.
Restructuring of the Leagues (Which seems a hobby of the FA) saw the club place in the Southern League and a creditable 10th place was secured in 2004/05, however a disastrous following season saw the club in 23rd place and relegation to the SSML.
Green shoots of recovery appeared with the Aylesbury Supporter Trust gaining control of the club in 2009 and with Tony Joyce at the helm secured a runners up spot behind moneybags Dunstable Town and with it promotion back to the Southern League.
Their Season So Far

Lying in 14th place after a steady but unspectacular start the Ducks are poor at "home" so far but great on the road. The season started with a 2-0 defeat against favourites Rugby Town but this reverse was followed up by two superb wins against Chalfont St Peter (3-1) and Chertsey Town (3-1), in the local derby last week the bragging rights went to the Upstarts of the Vale when the ducks were downed by another 3-1 score line in front of 476 people. They do enjoy scoring goals including 3 in a defeat at crisis club Kettering Town (4-3) and then 5 last Saturday against AFC Hayes (5-2).
Ones to Watch

A quality striker with the ability to play in wide positions is Joey Acheampong. A direct player who knows where the back of the net is. 31 years young Joey was previously with New Bradwell St Peter.

Man on a mission, Joey Acheampong.
Signed this year from Newport Pagnell is 30 years young Richard Armstrong. A player that has a commanding presence and is not afraid to tackle, "Dicky A" recently won the man of the match award against AFC Hayes.
With 150 Ducks appearances to his name, Club Captain Jack Wood is an old hand at just 21 years of age. A strong defender, Jack joined the club from Luton Town, initially on loan 2010. At still a tender age, the future is bright, the future is Wood.
The Gaffer

Former player Tony Joyce was appointed the club's manager in 2009 after a spell in the dug out at Buckingham Town. A former player with QPR, Aldershot and Woking, he led the mighty Ducks to promotion last year.
Have We Met Before?

Oh yes, many times, but last time out saw us well beaten by a 3-0 score line. However the Crows had just secured the SSML title so it was a case of hangovers all round. We did register a 1-0 victory in the same season courtesy of a Jack Bradshaw goal.
Matchday Information
Adults: £8.00
Concessions: £5.00
Under 16's: £1.00
Programme: Free with admittance (at least that is what it says on their website, however after our Biggleswade experience, not sure if I trust this source or not?)

Jez Izod