Crows On The Road: Jez's Report
Crows Down The Generals
Crows v Chesham United FC, FA Cup with Budweiser 1st Qualifying Round
Saturday 14th September 2013
Result: Chesham United 1-2 Crows (Mason, Lockett)
Attendance: 258 (25 approx travelling Crows)


The Journey

The intrepid traveller's tales team left Royston at around 12.45pm and had a remarkably easy journey to Chesham. The M25 was a kind mistress and we passed our time playing count the Lorries. Buses and Helicopters on the way. Dela Mudie had a right result as we passed a distribution centre holding several. We also had to endure Ian Collicote and his endless list of terrible jokes. Ian remarked that it was the Ministry of Silly Jokes, it was more like "I'm a Royston fan, get me out of here!"

As we came off the main road and onto the winding Chiltern countryside lanes it was quite obvious that this was a very affluent area as most driveways were gated and the Range Rovers parked on them seem to be the second car! The firsts were the Bentley's and Rollers parked at a distance. Would have been great to roll up in my little Skoda!
After a Sat Nav issue, nope not mine, Mr Mudie's this time, we safely parked in the large and FREE car park. This disgruntled Crow will come onto the pricing structure later.
The Ground
An absolutely quaint and gorgeous old ground that had been kept tidy and you could tell it was loved. Bags of character here in a fantastic location. Not many central grounds have rolling countryside behind it with sheep quietly grazing in the back ground.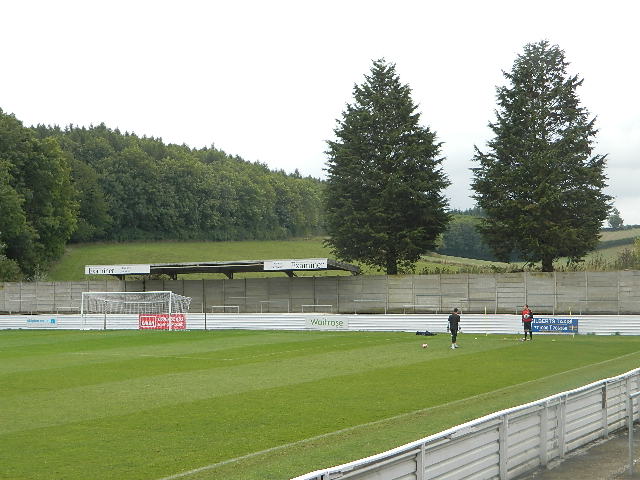 The Rolling Chiltern Hills behind Amy Lane: Beautiful
As you entered through the Claret and Blue painted turnstiles you were greeted by a wide area. There was covered terracing here with catering facilities. Opposite was another covered area with the said countryside behind it. Too your left was the Ryan Moran Stand in memory of a former player who recently died of cancer. I had the pleasure of meeting Ryan a few times over the years and he was always the perfect gentleman. Sadly missed by all.
To my right was the Main Stand with the social club next to it. This open area of terracing in front of it had the steepest and highest steps I have ever had to scale at a football match. Sherpa Tensing would have been very proud.
To my shock the Seated Main Stand had a small A4 poster stating transfer to stand £1.00. As this had not been advertised in either the Chesham club website or any of the posters outside of the ground (or if they had, it was not obvious) I felt this was a little naughty to say the least. The gate guard enforcing this charge was also a little offish with me insisting that this is standard practise as all of THEIR level grounds. They did not like me taking a picture of this either and I was a little concerned of the amount of stewards gathered around me at the start of the match. When I pointed out that this had been badly advertised an apology was issued and that they would look into this after the match.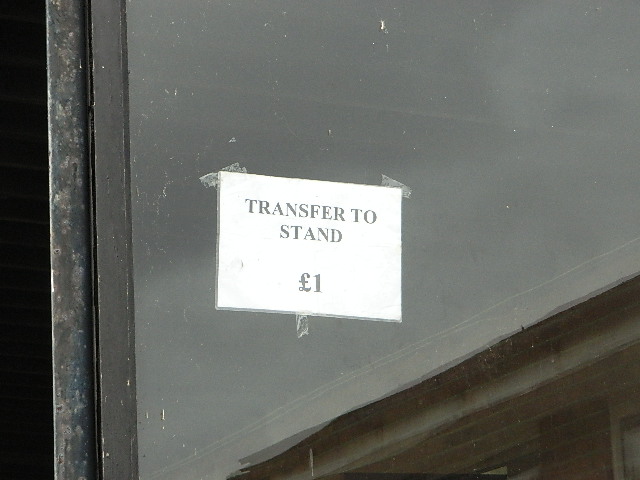 £1.00 you must be having a laugh
Food and Drink
A pound for a can of Coke! Ouch, but after the £10.00 plus £1.00 transfer fee I should not have been surprised. I did take part in a Chesham burger and have to say it was of very good quality, although they could have been a little more generous with the onions. I counted 4 bits only. At £3.00 it was reasonable value. 6/10
Programme
£2.00 for a very good read. Not too many adverts and some excellent articles inside. Overall one of the better editions that I have come across on my travels. 9/10
State of Toilets
Both inside and outside facilities were pretty clean and well maintained. The quaint observation of the ones in the Ryan Moran stand was that a toilet roll holder was screwed into the wall. Nothing unusual about that Crows? Except it was above the basin outside of the toilet! Do they do things different in Chesham? Which way does the water spin? 8/10
Tannoy System
Music to slit your wrists by, it really was depressing. Nothing upbeat came out of the speakers and this set the tone for the arrival of the players. Everyone was too depressed to clap.
The travellers tales team were a little worried when the announcements were made as the following was announced, "Welcome to the officials, players and supporters of Dunstable Town!" What was even more worrying is that the tannoy guy started reading out Dunstable's team! 2/10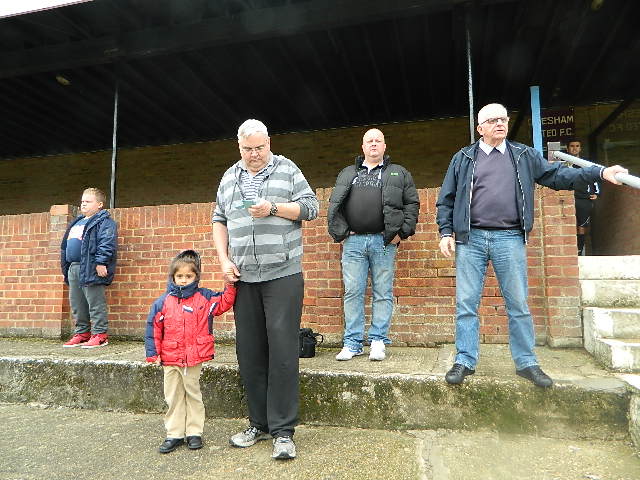 Your Intrepid travellers tales team minus Jez (I'm behind the Camera)
Home Fans
A friendly bunch of fans that showed great interest in the Crows by asking a lot of questions (Perhaps they were scouts?). Got behind their team at the start and shouted a lot of encouragement, however as their side fell apart in the second half they started calling for changes including a lot of shouts for the removal of their manager. Hang on Chesham fans, three play-off appearances, one promotion and currently sitting in 4th place? A little harsh do you think?
Very magnanimous in defeat and congratulated us on the result and wished us the best for the next round. Lots of discontent could be heard with many comments on the lines of "yet another bloody year going out to lower league S***" which I though was a little unfair on a superb Royston Town performance. I think we wanted to win more. 7/10
Crows
Around 25 of us made the relatively short trip to Amy lane and although we were spread out all over the place, you could hear plenty of shouts of encouragement. The goal celebrations by David Baulk's lads were great and when our winner was scored, you could probably have seen me run down the entire level of the stand to celebrate. I must have looked like a right lunatic doing this in front of 80 or so Chesham fans. 10/10
The Game
After a few questionable performances from the Crows, the entire traveller's tales team approached this with due dread and trepidation against a very good footballing side. So it proved in the first 30 minutes with some very nervous performances out there as Chesham constantly attacked. After the first Chesham goal we were expecting the floodgates to open as the General's threw everything at the Crows defence and should have been out of sight by half time but thanks to another superb display from George Lawton the gap was only a single goal.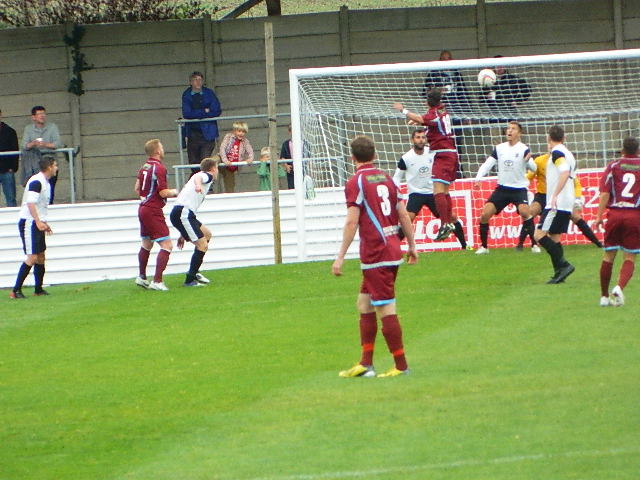 Crows under pressure: If it had not been for George, well…..
Again the Royston pattern of play was just a simple hoof it up the centre of the park and hope for the best and it was pretty torrid to watch. However, this must have been to lull Chesham into a false sense of security as when the Town started to play football it was excellent to watch and the Crows confidence steadily seeped into their game which culminated in an excellent move started by Ryan Ingrey who found the impressive Ryan Lockett. The Crows number ten unselfishly crossed to Ryan Mason who had the simple job of burying it into the back of the net.
The second half saw a fairly dominant Crows display as Chesham just simply fell apart. Super move after superb move and some solid defending prevented the hosts from regaining the lead. In total honesty there was only one team in it in the second half as Royston scented a scalp and this was duly received when another Ryan Lockett move involving the impressive Robbie Mason saw the hardworking Lockett score on his second attempt which cued wild celebrations from the travelling support.
Physio Watch
Kim was seen on several occasions and you can tell it is getting nearer to Xmas as more layers are appearing. Only saw the Chesham physio once and very nice she was too!
Bird watching
Our resident ornithology expert was unavailable this trip but yours truly saw a quite magnificent specimen wearing a very short skirt (possibly belt) and ripped tights in the club house. Lovely!
Man Of The Match
A real team effort this from everyone which must have included an inspired half time team talk by Paul. The travellers tales team has decided to give this to the impressively hard working Ryan Lockett who ran his socks off. An unselfish performance that led to the equaliser and a never give up attitude for the winner. Honourable mentions to the entire team. Well done lads!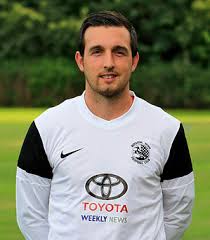 Ryan Lockett: The Man of the Match amongst 14 Heroes!
Mileage for me so far (Round Trips)
118 mile round trip
Jez Izod (With additional reporting from Neil Mudie, Dela Mudie, Ian Collicote, Jason Worboys and Harley Worboys)