Crows on the Road
Next Up: 'The Rams' Of Beaconsfield SYCOB FC
Crows at Beaconsfield SYCOB FC
Monday 16th September 2013. Kick Off: 19:45, Holloways Park, Windsor Road, Beaconsfield, Bucks, HP9 2SE
The Calor League Central Division 1
After a fantastic performance last Saturday against Chesham United the Crows will appear in Monday night football, cue the TV Cameras, cue Gareth Southgate spouting total rubbish, cue the smell of meat pies wafting across the stadia, cue Jez waking up and smelling reality. How many times though have Royston played first team Monday night matches? I can't remember, can you?
But anyhow who are the SYCOB's? Well they come from the most loveliest of Chiltern towns of Beaconsfield, famous for the wood that made the furniture for that other lovely Chiltern town of Wycombe. I am in a lovely mood tonight, everything is lovely, must be something to do with the large glass of Vino that I hold whilst typing! LOVELY! Just a celebration drink honestly!
But I digress, apart from the furniture stuff, the Town is famous for its Film studios and for many famous "flicks" that were filmed in these parts. These include the James Bond film "Thunderball", the Simon Pegg influenced "Hot Fuzz" and "Midsommer Murders"! Don't be jealous fellow Crows, we've got the Oscar winning film "Full Metal Jacket" (Well Bassingbourn does, but it is a part of Royston though…..is it not?) so nah nah nah nah to Beaconsfield, 1-0 to Royston.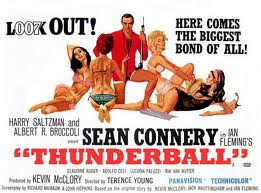 James Bond: You Expect Me To Defend? No Mr Bond, I expect you to Score!
Famous people of this quaint town include, Dr Liam Fox and it's now 2-0 to Royston! But a comeback is on with James Corden, Barry Gibb and a winner with Airey Neave of Colditz fame used to live here! So a fair draw then????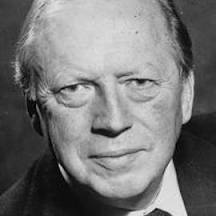 Airey Neave: A Hero of Colditz Castle
HISTORY
Originally formed in 1921 as Beaconsfield United FC, a nice traditional name, with no Syco's or sycobs involved. They competed in several different local junior leagues until 1979. What a year! Sid Vicious was found dead, you know him of Sex Pistols fame and it snowed in the Sahara desert! Who said Global warming is a new experience hey!
On joining the London Spartan League in which that famous North London side Tottenham not so Hotspurs never won, they enjoyed moderate success.
Now a twist in this SYCO plot! Slough Youth Centre Old Boys FC of the Chiltonian league potted around until becoming runners up in 1994.
Due to ground regulations, SYCOB needed a ground share agreement with Beaconsfield United, but as United were as broke as Greece, Ireland and Spain put together it was felt that a merger would be the best way forward and so joined their names together and took United's place in the Spartan League.
They won the South Midlands Spartan league twice but were rejected in their first application. Incidentally fellow Crows, they had one of their biggest victories in this league, beating us 7-1 in a result that for some reason has been wiped from most football databases! But I have great sources including a former player who scored the first of his two goals for the Crows….. Step forward Martin Ward, five appearances and two goals. Martin would also admit that "he was not very good!" We've had a few of those in the past have we not Crows!
In 2004 they secured another championship, but this time, with the correct grading met, they were promoted into the Southern League. Here they stayed until relegation from the South & West Division in 2007. They finished bottom with just 5 wins all season.
They immediately bounced back in 2008, winning the SSML Premier Division by 9 points from Chalfont St Peter.
In 2009 a fourth place finish was secured with a play-off berth. They were beaten 2-1 by AFC Totton in the Semi-Final.
2011 saw a very disappointing campaign for "The Rams", finishing bottom of the league with just 33 points and an FA Cup exit in the first preliminary round against Swindon Supermarine. They won the usual reprieve from relegation as Bedworth and Rugby were switched leagues.
Contrast of fortunes two years ago as they finished 4th and only just lost to Bedworth United FC in the play-off final by a score of 3-1.
This season they have started as one of the favourites in a very competitive league.
Their Season So Far
You would have thought after the shock resignation of James Pritchard that the Rams would be in turmoil? Quite to the contrary, former Wingate & Finchley boss Gary Meakin (Who was unfairly dumped from that job in my view) took over the reigns at Holloways Park and has guided them to 4th place in the table with having to deal also with a raft of departures including top scorer and scourge of the Crows Yashin Romeo. No more crafty headlines for me now!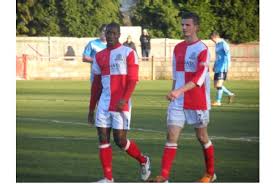 Romeo, Oh Romeo, where for art tho Romeo? Gone to Thatcham mate!
They started their season off with victories over moneybags Dunstable Town (3-2) and our opening opponents Egham Town (3-2) before being hammered at home by Surprise package Barton Rovers (4-0). Local bragging rights were restored with a 3-1 success against tenants Slough Town who were apparently awful and a victory on the road at AFC Hayes. A 1-1 draw at home to Marlow was secured before they were dumped out of the FA Cup by Burnham on Saturday.
Ones to Watch
Signed in the summer is Zak Joseph who has found the net 4 times. Previously of North Greenford United, the forward player is highly regarded at Holloways Park and is expected to fill the boots of departed players Ryan Blake and Yash Romeo.
Attacking midfielder Wayne O'Sullivan is another new acquisition from Aylesbury FC. A player that is not afraid to have a shot and is pretty deadly from set pieces. Former clubs include Arsenal, Newport County and Exeter City. Some pedigree there, apart from the Arsenal connection.

Wayne O'Sullivan, used to be a Gooner, now a Ram
Holding the back line is yet another summer signing and this time it is experienced centre back Jon Munday. After two spells at last years Champions Burnham, the defender opted for a new challenge this season and signed for the Rams. A tough tackling no nonsense player, this is an excellent addition to the squad.
The Gaffer
They have not had much luck with managers, although that has not made a difference on performances. Byron Walton resigned at the beginning of last season with Steve Baker taking tempory charge. James Pritchard then took the SYCOB hot seat before relinquishing command last month. Manager Gary Meakin stepped into the breach and had to deal with massive player upheaval but credit to the guy, he is doing an excellent job. Previously with Northwood and Wingate & Finchley he is highly regarded within non league circles.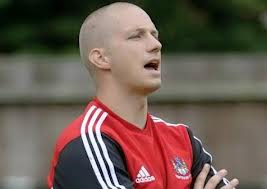 Gary "Baby face" Meakin: Has unfinished business
Have We Met Before?
So far I have uncovered 12 occasions that we have pitted our wits against each other. I might be wrong, so will stand corrected. We don't have a very good record against them. In those twelve matches, we have won thrice, drawn twice and lost seven times. Hope we improve that record on Monday night.
Last season saw us come from behind at Garden Walk last November, with the Crows trailing 2-1 with 10 minutes remaining, up stepped Lil Luke Robins who turned the game including a 93rd minute winner. Unfortunately the game at Holloways Park went to the home side after a poor Royston performance saw Yashin Romeo score a 23rd minute scorcher in front of just 63 people to see the Rams home.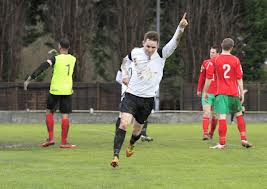 "Lil" Luke Robins: Last Minute Hero
By Jez Izod