At Home With The Crows
NEXT UP: "The Town" Of Daventry Town FC
Crows v Daventry Town
Calor League – Division One Central
Saturday 7th September 2013 3pm kick off
So after Saturday's abject display in the FA Cup and the subsequent replay we are back to home action and welcome old friends Daventry Town.
I seem to bring to you fellow Crows a Royal fact and this week is no different. Daventry is famous for being the hide out for the army of King Charles I after storming the Parliamentary garrison at Leicester and on its way to relieve the siege of Oxford. The Royalist army camped on Burrow Hill and Charles went hunting in the nearby forest.
More recently Daventry is accredited of being the birth place of radar. In fact Burrough Hill (formally Burrow Hill) only ceased being an operational Radar station in 1992.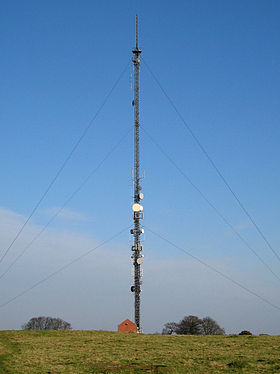 Burrough Hill Radar Station, looks just like RAF Barkway
Well the most famous former resident of this parish was Thomas Randolph, I remember being taught stuff about him at Meridian. Not much did I learn at that School, but Ol' Tom was a famous dramatist in the early 1600's.
On the musical note, Kevin Morgan the Tuba player comes from these parts, you know the tuba, the overgrown trumpet that you have to hold on your knees.
HISTORY
Formed in 1886 as a local town club playing in the Northampton Town League, the club moved to the Northants Combination league in 1987.
Under the emergence of influential manager Willie Barrett (Not of Barrett homes!) the club won successive championships to gain entry into The United Counties League in 1990.
The club started out at The Hollow Ground in the town centre, but after earning promotion at the first attempt, they were denied by those suits in charge of the league due to ground requirements. With this snub, the fortunes of the club varied with relegation more frequent than promotion.
After moving to a brand new ground, The Elderstubbs, their future was threatened in 2006 by a massive fire that destroyed the clubhouse and changing rooms.
They were saved due to a Sponsorship deal with Go Mobile, this enabled the club to survive and thrive.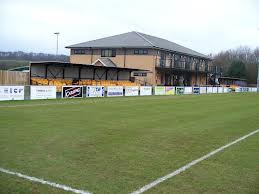 2008 proved a fantastically successful season for the Town with the UCL Division 1 captured by a massive 20 point margin from "that lot up the A1(m) who cannot be named" Northern Star. They also defeated 3 Premier league teams on the way to the final of League Cup.
In 2010 the club gained promotion to the Southern League after snatching the title away from St Neots Town in the last two weeks of the season.
Their first foray into this league proved excellent with a 3rd place finish secured behind Hitchin Town FC and Arlesey Town FC. They would have won this had it not been for a 6 point deduction for being a bit naughty with player registration. In the play offs they lost out to Hitchin by a 2-0 scoreline.
Last season saw Dav finish just outside the play-off places with big things expected from the side this season.
Their Season So Far
High fliers so far sitting top of the perch. On many of the non-league forums, people are surprised by this. I am not, an excellent set-up, quality players and a superb manager, they are my tip to go up.
With a 100% record at the time of writing, Town started the season by slamming 5 past hapless Ashford Town in a 5-2 win at communications park, before following up that win with victories away at Aylesbury (2-1)and Northwood (3-0). The cherry on top was achieved with a 5-0 spanking of local rivals and favourites for the title Rugby Town in front of a bumper bank holiday crowd of 258. They also progressed in the FA Cup with a hard fought 1-0 win over Hillingdon Borough.
Ones To Watch
Leading the line for Daventry should be Scott Cross. Scotty has 3 league goals to his name so far. A tough opponent who is not scared to run and run, he is absolutely deadly around the penalty box. Former clubs include Northampton Town.
Another player who knows where the onion net is Deqwon Ebanks of the famed Ebanks family of strikers. Deqqy was previously on the books of Birmingham City before joining Tamworth upon his release from the Blues. Lambs manager see's this young hot shot as a player for the future and has subsequently allowed him to join Daventry on loan. So far this looks a great bit of business for the men from Communications park with the net bulging twice so far this season including a 90th minute strike against Northwood.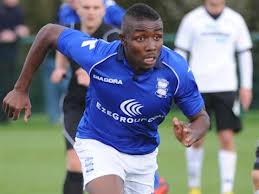 Deqwon Ebanks. Ebanks by name, Ebanks by nature
After talking about how frightening their forward line is lets take a look at the back. I've got to mention Guy Sanders. Guy is the club captain after signing from Barwell a couple of years ago. A real leader and an inspiration to this team. Tough but fair in the tackle and he's not afraid to have a shot too. Previously with Reading, Bedworth, Moor Green, Solihull, Leamington and Barwell.
The Man In Charge
A real gentleman is Darran Foster. He is only too happy to answer questions and have a chat on the phone and after last season non information about the chap, I'm quite happy now to furnish you with some facts.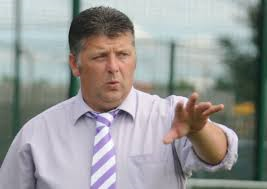 Darran "Nice Guy" Foster
Dazza was previously the very successful manager of Ford Sports and Daventry United before taking over the reigns at Communications Park from former Republic of Ireland international Mark Kinsella. A man with a big future in front of him in footballing management, Darran is also responsible for the ground, the tea and biscuits, painting, drainage, etc. A real all rounder then!
Have We Met Before
Twice now have our paths crossed and it was the early doors of last season at Garden Walk. 1st of September 2012 saw the Crows come from behind to win 2-1 courtesy of goals from Kaan Fehmi and Captain Ross Collins. Attendance that day was 170.
The return match saw a bumper away support disappointed by a very very poor Crows display in which the away side were outfought, outmuscled and outplayed in a 4-2 defeat. For the record Ryan Ingrey and Matt Standen were on the score sheet and if it had not been for some heroics by Luke Howard in the Royston goal, things could have been much worse. To make matters worse, Wolves were dumped out of the cup by Luton that day, with the locals giving me match updates, just great.

Luke Howard: Hero off the pitch (Fireman) and Hero on the pitch

Jez Izod