On The Road With The Crows: Jez's Report
If it wasn't for the goalie it's a draw, oh if it wasn't for the goalie, wasn't for the goalie!
Tuesday 16th April 2013
Result: Woodford United 1-4 Royston Town (Standen, Ingrey x 2, Robins)
Attendance: 46 (19 Travelling Crows)
As it was my birthday, driving duties were gratefully taken up by Richard Scott with Caroline Chief navigator cum driving expert (eg, you're going too fast, mind the pedestrian, watch out for the signs, etc). Anyhow, I was picked up at 4.20pm in the afternoon. The idea was to get to Woodford Halse early and partake in a spot of steak. Well, the drive was pretty straightforward, taking us through the very best the Northamptonshire countryside had to offer as well as some of their nutty drivers. The signs on the M1 were a little confusing to say the least. "Obstruction ahead" when there wasn't one, "Debris in road" and there was none and my favourite of the day, "Queue on slip road", when there was only one car! I understand that our chairman did heed these warnings and took an alternative route costing him precious time. Mind you, it could have been worse, Mr Moulding forgot it was a 7.30pm kick-off, got lost with his map and paper and missed the first 25 minutes of the match. Crows fans you thought my navigation was bad!
To make matters worse, this starving band of travellers eventually found the one and only pub in the village and well, spit and sawdust are kind words for this establishment! No ale on tap and no food, so after a swift pint of Carlsberg, we headed to the ground.
Once parked up on a slip road, our intrepid band headed towards the club house, there were cars and people everywhere, bearing in mind that their average attendance at "The Halse" is about 30 people, I was beginning to wonder if they thought Man Utd were in town (well it wouldn't be the Spurs, not attractive enough and 4th place, maybe next year!).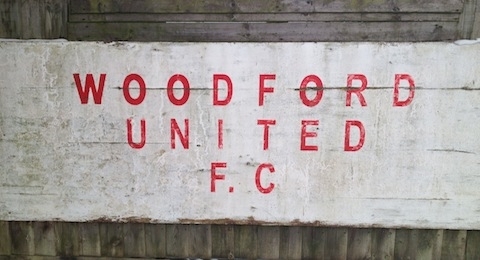 It turns out that mini soccer was taking place, hence the large populace. However upon entry into the clubhouse you were met by a very clean and tidy set-up. The huge travelling support were already supping their ales and I am sure I was being served by their physio. I remember this as when they visited G.W, I remarked on how attractive she was! This lass had something about her too.
Well the ground? Upon entry through the turnstiles you were met by two separate metal structures, one holding seats and another for standing spectators. These were slightly higher than pitch level and apart from the posts it was a pretty good view. Both ends were uncovered apart from a small wooden and concrete facility in one corner. The other side was just one long uncovered terracing. The grass surrounding all sides was like a jungle and in fact when I was hunting for a toilet due to copious amounts of beer (It was my birthday), I was told by the turnstile operator to use the hedge through one of the gaps in the fence to relieve myself as it would be quicker! I do have some dignity though and opted for the in door facilities!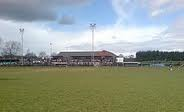 Due to the lack of food at the local hostelry, we did partake in a Woodford "wonder" burger and it was very tasty. Poor lass behind the counter thought that all folk from Royston were millionaires as the entire travelling support were paying by £20.00 notes, except for David Baulk who had pockets of shrapnel! Wonder what has happened to the kid's pocket money then?
£2.00, yep £2.00 for a glossy edition. Unfortunately not good value for money. Most of the programme was taken up by adverts and in fact there were only a couple of decent articles.
No outside toilets for the gents (Well there was a door, but it was rotting away!) Inside facilities were ok. In regards to the ladies loos, our travelling companion returned ashen faced after her lucky wee!
I think there was a system, unless it was music coming from the changing rooms. If that was the case then our players have very poor tastes!
Did not hear an announcer at all!
First half, not many were spotted. I do feel desperately sorry for the Reds as financial problems have dogged them all season. The club house got pretty full during the game and when I started chatting to some of the drinkers and mentioned this, most of them replied, "we are not here for the football, just the beer." Just think if those chaps had paid an extra £8.00 for entry, it could have helped support the club.
Everyone at the club was really friendly though and are looking forward to being competitive next year in a lower league. Although a hard place to find, it is an enjoyable trip and one in Northamptonshire that I will miss compared to others.
Crows
Pretty loud and more so as we had our lubricated cheerleader there! Lots of" C'mon you Crows" and "Oh when the Crows come marching in!" Did their very best to inspire the team. Second half gave Woodford a lot of respect for such a battling performance.
A nervous affair this, especially when you come up against an opposition with the worst record in the entire football fraternity. The Crows were desperate to open the scoring and did so with a smartly taken Matt Standen finish.
The pitch was truly awful to play on and had a huge contributory factor to the opposition equaliser. A double bobble led Taylor Parr to mishit a clearance allowing their striker to pick his pocket and score.
The hosts were determined to hold on for a draw and with some inspired goal keeping, it was beginning to look a little embarrassing for the Crows until fate struck a blow to Woodford and their stopper had to come off injured. With no replacement Goalie on the bench a midfielder stepped into his gloves but could not prevent the Crows capitalising on this with two smart finishes from Ingrey and a superb long range effort from Robins.
The Crows rode their luck against a difficult, dogged and determined Woodford side. The hosts may not have had the quality but my god they made up for that with courage.
Certainly the future looks a little brighter for them. Just need to get those drinkers through the gate.
Kim really earnt her £'s this night! Ended up treating their players as well as ours. You can also tell that summer is on the way, as we were treated to her face for the first time in weeks!
Our resident ornithology expert was driving so could not partake (safely) in any spotting. However, the area is a Welsh farmers dream, absolutely teaming with sheep. It could also be useful for someone with sleep degradation issues. I must have counted over 500 of them
In regards to Birds though. Apart from the one in the bar, none spotted!
For me and his two goals, Ryan Ingrey. This lad is definitely heading for the young player of the year award. Honourable mentions to Joe De La Salle who kept himself busy when required and Kaan Fehmi for making a nuisance of himself.
Mileage for me so far (Round Trips)
3,489.1 Plus that round trip to stupid Burnham Ramblers.
Jez Izod (With additional reporting from Richard and Caroline Scott)