Crows On The Road: Jez's Report
O Romeo, Romeo, Wherefore art thou Romeo!
Crows
at Beaconsfield SYCOB
Saturday 23rd February 2013
Result: Beaconsfield SYCOB FC 1-0 Royston Town FC
Attendance: 63 (11 Travelling Crows)
The posse and moi, left Royston at 1pm for a pretty straightforward journey to deepest and most darkest Beaconsfield. Along the way we passed several Mini buses decorated in Bradford City colours. Surely they most have realised that the game was actually on the Sunday rather than the Saturday? Or were these fans taking advantage of sight seeing another famous city? We were over taken along the A1(m) by a black Range Rover carrying our Chairman. Don't worry Crows fans, the challenge was on and my technical overtaking and round-a-bout skills were no match for Mr Jackson and we eventually beat said Range Rover to Beaconsfield. Skoda 1-0 Range Rover! (Ok, Steve did stop for fuel on the way, but this is just a technicality!)
Not much has changed since our last visit here when we played Slough. The build is Mid 90's with a modern(ish) club house. One of the TV's that had been stolen previous to our last visit has now been replaced. So you could watch the QPR v Man Utd game on Spanish SKY TV! The smokiness of our last visit remained, with the smell of the Beaconsfield burger wafting through the building. This time I realised that my glasses were clean and it was just the smog from the cook house causing vision difficulties.
Once you entered into the ground, we were greeted by a green pitch, yes a green pitch. This had been played on 4 times in one week, so well done BSFC! The set up was open terracing down one side, terracing on one end, a red seated stand down one side and covered terracing on one end. With a sparse crowd of 63, it was pretty easy to choose a place to stand or sit.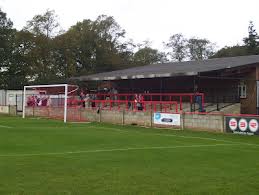 Just like last time, my fellow travellers did not fancy a Maccy D's or KFC so had to partake in a Beaconsfield Burger. Wow, freshly cooked with "service with a smile", it was usual football fare but served with a smile. Plus, my cheeky smile got me free cheese again! 8/10 for this effort.
£1.50 for an excellent read. The clubs in this league must be reading my reviews and taking account of my constructive critisms! Not rammed with advertising and a decent read for the value.
This could be improved by redesigning how the doors for the gents open. Twice I nearly took out Richard upon entering these facilities. I promise you Crows, I was not following him. Drying resources were a little suspect with an aged Brown towel hanging on the radiator. I took advantage of using my jeans to dry! It was the safest option (please do not tell the future Mrs Jez…..see Uxbridge article for the answer!)
Initially it sounded something out of a 90's rap band, crackling and every other word being e or erh or arh…Once they sorted out a CD (Would not say decent), Rod Stewart blasted out to all and sundry! The chap did take around 30 minutes to read out the teams and we now have Joe De La Costa Del La Sol and Jock Broodshaw playing for us now. Glad Kaan was not on the team sheet! Can you imagine how that would have been produced!!!
A really lovely set of fans, really into their football and could not do too much to make you welcome. Not much sound came from the home support, but you can accept that from just 52 home fans.
11 of us made the trip to Buckinghamshire and we made ourselves heard. Lots of Come on you Crows and Come on Royston rang out across Holloway Park. The first rendition of "Everywhere we go, people want to know" had it's outing too. Does need more than 11 to make an impact, so just you wait for the next home game. Drummers are you ready? Singers are you ready? Ian Collicote are you ready? Neil Mudie are you ready?
After singing the praises of our young side over the recent weeks, this must rank as one of the worst performances I have witnessed for a long time. Lacklustre, poor and other words could be used.
First half was commanding, until calamitous defending and goalkeeping gave Beaconsfield a gift wrapped/signed goal.
Second half was limp to say the least, but you have to take things into perspective over the season. One awful performance a season does not make. These players have punched well above their weight all year, so after feeling angry for the journey home a lot of pride welled up inside me after reviewing this season's journey.
I have never seen Richard so excited in my life! I think he must have counted at least 6 mating Kite pairs. Even I got the species correct, so I can learn from out resident ornithological expert.
On my type of birds, there must have been a heat wave in Beaconsfield as 3 young birds took their seats in the main stand and were more orange than Tom Jones!
After such a poor performance, it really is difficult to choose one. For his work rate and the fact that Beaconsfield put two men on him for the whole game (Thinking he was Kaan Fehmi) then step forward Ryan Ingrey. Worked so hard in the game, battled and had a never give up attitude.
Mileage for me so far (Round Trips)
1,591.9 Plus that round trip to stupid Burnham Ramblers.
Jez Izod (With additional reporting from Richard Scott and Caroline Scott)