Will Norris Signs For Cambridge United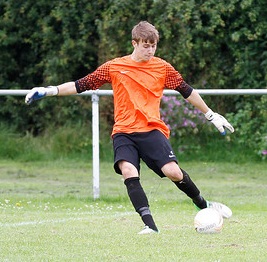 Goalkeeper Will Norris has been transferred to Cambridge United, but under the terms of the transfer will spend the forthcoming season on loan with The Crows.

Here are the details…

Cambridge United are delighted to announce the signing of 18-year-old goalkeeper Will Norris on a two-year deal from Royston Town.
Norris impressed in The Crows' championship-winning campaign last season, making more than 40 appearances in his debut season at Garden Walk.
As part of the arrangement, Norris will be loaned back to his former club for the duration of the 2012/13 season, with U's manager Jez George describing the young stopper as "one for the future".
Norris was pleased to have signed on the dotted line and was clearly impressed by what he has seen so far at the R Costings Abbey Stadium.
"I'm delighted for the opportunity to sign for Cambridge United. I've been really impressed with the training here and the attitude of the club. Jez has been tremendously welcoming and has really made me feel a part of everything." said Norris.

"I want to thank Royston for a great season last season. I really enjoyed my time there and am thankful for all the support they've given me, especially Paul Attfield [Royston Town manager] and the chairman Steve Jackson."
"I think it's a good arrangement that I continue playing for them under the loan agreement next season, they have gone up a level and Jez and I agree it's important that I continue to gain playing experience as well as training full-time with Lance [Key, goalkeeping coach].
"I feel this is a positive career move for me as the facilities and environment here are perfect for a player of my age and aspirations to develop further.
"Special thanks should also go to Dave Reddington and James Russell at Queens' Academy for all the work they have done with me over the last three years. That work has undoubtedly played a crucial role in my development as a goalkeeper."
Jez was similarly excited about the deal, describing Norris as "a young goalkeeper with loads of potential". "We are really pleased to have signed Will, we've been impressed with his attitude, character and maturity as well as his ability," Jez said.
"He's definitely 'one for the future' rather than now but we feel that he will develop really well in our environment working with Lance and Hedgy [Jonathan Hedge].
"I think it's crucial at his age that he is playing games, hence the arrangement with Royston that we have loaned him back for a season, at a level higher than he was playing last year."
Jez has had the young keeper on his radar for some time, recognising his potential having watched him several times last term and he noted that it was "unusual" for a goalkeeper to play in a championship-winning team at such a young age.
Keen to praise the work local side Royston have done with Norris, Jez said: "I'd like to thank Paul Attfield, who I know from his time at Buntingford Town when we signed Robbie Willmott. "I know he is a great advocate of youth football so great credit must go to Royston Town and it's fantastic that we are able to sign a talented young player from a local club. It shows that we are watching games and looking for players at all levels."