So when did it all begin? 
After some intensive research the evidence is that the club came into existence in 1875 making Royston the third oldest Club in Hertfordshire after Hitchin and Bishop's Stortford.
The Club's very first honour came in 1911/12 when they won the Creake Charity Shield beating Wisbech 1-0 in extra time.
The Club's first major honour in more recent times came in the guise of promotion to the Herts County Premier League in 1969/70 and they went on to be champions in 1972/73 and 1976/77.  In 1978 we rejoined the South Midlands League and won the Division One title at the first time of asking.  Success continued with a final appearance in the Herts Charity Shield for the first time in 1979 and runners up spot in the South Midlands League Premier Division in 1980.  The Herts Charity Shield was won in 1981/82 and two years later the Club joined the Isthmian League Division Two North where we remained for ten seasons before returning to the South Midlands League in 1994.
After a period in the doldrums which culminated in relegation from the South Midlands League Premier Division at the end of 2006/07, Paul Attfield was appointed manager with ex-Spurs favourite Tony Galvin returning to Garden Walk as 1st Team Coach in November 2007.
Paul immediately set about building a new 1st Team squad and a run of 17 games undefeated saw the Club move from bottom of the table to finish in 5th place in the League.
The foundations had been laid for the 2008/09 season and the first team took the South Midlands Division One League title with one of the best set of stats for any Step 6 Club in the country W33, D4, L3, GF138, GA30, GD+108, PTS 103.
The 2011/2012 season will be seen as a watershed in our history with the winning of the South Midlands Premier Division title and promotion to Step 4 in the shape of the Evo-Stik Southern League Division One Central.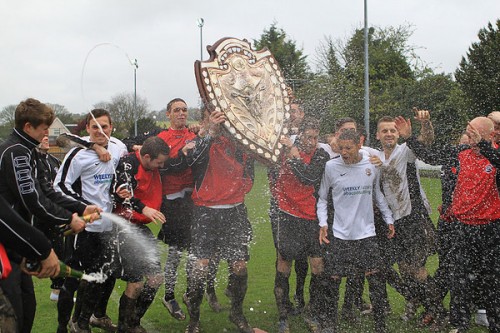 In our first season back at Step 4 after an absence of 19 years it was hard to know what to expect and how we would perform.  Most of our supporters felt a mid-table position would be an acceptable target for the season, but we quickly found ourselves exceeding all expectations as our performances propelled us towards the top of the table.  Four straight wins in the first four games set the tone and a run of nine wins with just one defeat between October and December saw us maintain a play-off position.  In the very last game of the season a play-off was still a possibility and having gone 2-1 up away at AFC Hayes with just a few minutes of the game left it looked a near certainty.  But it was not to be as Hayes scored an 87 minute equaliser and our play-off place was lost.
Our second season back at Step 4 began with a sense of heightened expectation that we could push on to stake a claim in the play off's for Step 3 and this was further fuelled by a raft of summer signings of highly experienced players from higher league clubs.  These included the quartet of Adie Cambridge, Robbie Nightingale, Tom Pepper and Dave Theobald from Cambridge City together with Mitchell Bryant from Frome and Robbie Mason from Soham Town Rangers.
However, our steady progress to claim a place in the play off zone was given a severe jolt when, at the beginning of November, Paul Attfield announced his resignation as first team manager due to ill health.  The search for his replacement began almost immediately and we were inundated with applications from some very well know and successful managers.  After an exhaustive selection process the Board appointed Steve Castle at the end of November and on Boxing Day Steve officially took over securing a 0 – 0 draw against the League's form team and eventual champions Dunstable Town.
The wettest winter in living memory caused a host of postponements in the New Year and when we did begin to play catch up our form was inconsistent and we gradually lost touch with the play off group finishing in seventh place for the second season running.
Our 2014/15 season opener was at home against one of the promotion favourites Rugby Town but an impressive team display ensured their threat was stifled and we ran out winners 2-1.  That victory really did set things buzzing but we were quickly brought back down to earth when on the following Tuesday night Bedworth United were the visitors winning the game 3–1.
As we all know consistency in performances provides the key to long term success and although the early stages of the season produced good results against the likes of Daventry Town and Beaconsfield these were punctuated by dismal performances against the likes of Aylesbury and Egham Town. From mid November to mid December we really lost our way with six defeats in seven games but our rollercoaster ride saw an incredible run of form over the Christmas period and into the New Year with five straight wins which helped us maintain a position in the play-off places.
On a miserable Tuesday evening in February we travelled to lowly AFC Hayes and after an abject performance, we lost the game 2–0.  This prompted our Chairman to tell Steve Castle that he had given up on this team making the play – offs and said that we should start preparing instead for next season.  That message was conveyed to players and we witnessed a most remarkable transformation in our results with a fourteen game unbeaten run during which we scored 29 goals and conceded just seven resulting in us achieving the runners up spot to league champions Kettering Town and securing our place in the play-off semi-finals where we met local rivals Barton Rovers. After an incident packed 90 minutes and extra time the game ended in a goalless draw but it was not to be our night and we lost the shoot out 4-5 and had to suffer the agony of all the emotions which go with being defeated in this way.
The start of the 2015/16 season saw a  relatively successful preseason programme of games and an emphatic win against Cheshunt 5-1 in the Herts Charity Cup we started our league fixtures full of confidence.  That quickly evaporated when in the first league game we were well and truly beaten by Uxbridge 3–1.  Things went from bad to worse and after four games we had only acquired one point and the loss of Scott Bridges suspended for 5 games carried over from the previous season was certainly highly significant.
Throughout September/October our performances certainly improved and between the end of December and the end of March we produced a rich vein of form with only one defeat in 14 games and this ensured we were sitting on top of the league with just seven games to go and with the expectation that we could win promotion outright ran high throughout the whole club.  However three games in succession proved our down fall when we could only draw 0–0 with Bedford and lost to Egham away 3-1 and Godalming at home 1-0 and once again we ended up in the play offs against AFC Rushden & Diamonds but we failed to turn up and went out tamely to our opponents 2-1.
Having finished runners up for two years in succession  Steve Castle was determined to make it third time lucky and began to recruit some experienced new blood in the shape of John Frendo and Adam Murray whilst at the same time giving youngsters Gus Scott Morris and Josh Castiglione extended runs  in the first team.
However the season didn't start well and after four games we'd only mustered five points whilst promotion rivals Farnborough just couldn't stop winning. Although results did improve, defeat in the FA Cup to Heybridge Swifts 4–1 and a thrashing by Barton Rovers at home 6–3 at the end of September  didn't do a great deal of good for our confidence.
Things took a dramatic turn thereafter with twelve successive league wins which ended with defeat 2-1 at Kidlington in early January 2017, interspersed by a magnificent run in the FA Trophy including victory against Step 2 outfit Hampton and Richmond Borough before in the replay against Dulwich Hamlet we eventually went down 1-0.
With cup football out of the way the team put together an incredible run of 16 league games undefeated , including a 5–0 thrashing of closest rivals Farnborough which saw us maintain the top spot until the end of the season by a margin of twelve points and the highest number of goals scored, 120, across all three Evostik Leagues.
Promotion to the Southern Premier League means that the Club will be playing at its highest level in its 142 year history!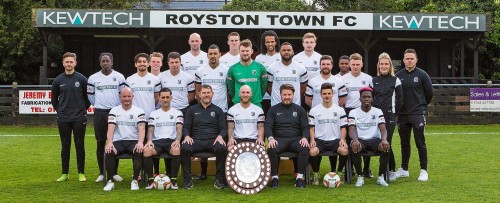 A comprehensive history of the Club can be found in The History of Royston Town FC 1875 – 2012 first published in 2013.  The book was written by the Club's President, Alan Barlow after over five years of painstaking research and can be purchase via the Club or by visiting www.alanvbarlow.com.