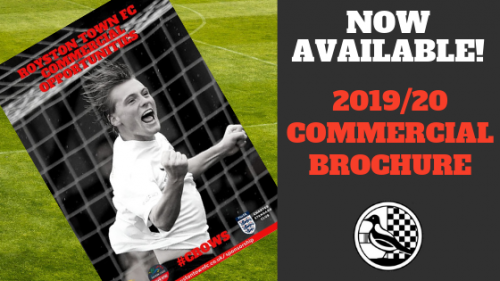 Royston Town FC are pleased to announce the launch of our brand new season 2019/20 Commercial brochure!
Like any Club at this level of football it is vitally important to have sponsorship and fund raising activities to help sustain the Club's operating costs. To enable us to continue our progress and achieve our objectives, both on and off the pitch, we are always looking for financial support from local, national and international companies who wish to align and affiliate themselves to our 'Football For All' ethos and ambition.
We have a wide number of sponsorship opportunities available to welcome you into the ever expanding Royston Town football family, whilst also providing you with a wide range of exposure to  promote and grow your business.
You can view our latest commercial brochure here:
Or download your own copy here: RTFC Commercial Opportunities 2019/20
If you wish to discuss your sponsorship requirements or have any questions please contact:
Alan Barlow – Club President
Telephone: 07966 296614
Email: president@roystontownfc.co.uk
Donations – a number of our sponsors prefer to provide a donation which is put into the Club's Facilities Development Fund and helps us maintain the standard of both the playing and member facilities.
Fund Raising
Over and above the sponsorship there are a whole range of activities which help the Club raise funds – these include:
Social Events – (click here)
Annual Beer & Music Festival – held on the last Sunday in May, i.e. over the Bank Holiday weekend.
Match Day:


Crows 50/50 Match Day Draw (tickets £1 each)

Best Meat Raffle in Hertfordshire! (£1 a strip)
Crows Weekly Draw
This fund was set up many years ago as a way of providing a regular source of income to help the Club improve facilities both on and off the pitch. 
A Blue Ball is in the drum with the numbered balls of all Crows Weekly Draw members. The holder of the winning number will receive £25 with £10 being added to the "Roll Over" fund each week. The "Roll Over" fund will be won when the Blue ball is drawn, with the next number taking the accumulated prize.
Why not join today – simply download the standing order form by clicking here and return it to our fund organiser Trevor Burrows or leave it at the club – or contact Trevor and he will register you as a member.
Trevor's Contact Details:
Telephone:         07813 327786
Email:                burrowsbuildingservice@hotmail.co.uk