Meridian Sixth Form College • Garden Walk
Royston • Hertfordshire • SG8 7JH
Tel: 01763 242236
email: d.gibson@rsat.org.uk
Course Information – September 2017
Courses Available
Cambridge Technicals in Sport & Physical Activity
Level 3 Extended Diploma, Diploma, Foundation Diploma
Cambridge Technicals are vocational qualifications at Level 3. They're designed with the workplace in mind and provide a high-quality alternative to A Levels.  This qualification's aim is to develop the students' knowledge, understanding and skills of the principles of Sport and Physical Activity.
Level 3 Cambridge Technicals in Sport and Physical Activity focuses on the requirements that today's universities and employers demand. Vocational education is not just about results, it's about educating people in the knowledge and skills required for employment and for the community as a whole. It's also about developing the behaviours and attributes needed to progress and succeed in education and in work.
What will I study?
In the first year you will study a number of units that are mandatory for the 'Sports' pathways e.g. Body Systems & Effects of Physical Activity, Sports Coaching & Leadership, Sports Organisation & Development, Research Methods in Sport Science & Sports Studies, Sport & Exercise Psychology. In the second year you will continue studying the remainder of the mandatory units plus two optional units that go towards the relevant qualification size.
Course Entry Requirements:
Five GCSE's at grade C or above which includes English and Maths along with a   successful interview and Football trial.
Career progression route:
Students can progress to Higher Education on a degree programme such as Sport Science, Sports Psychology, Sports Nutrition or Sports Therapy. The course could also support progression directly into employment in the sport and physical activity sector. There are also opportunities for Scholarships in America.
Added extras may include:
The F.A. Level 1 Coaching Award
English and Maths:
Students who do not have a grade C or above in GCSE English or Maths will have the opportunity to re-take these subjects during their course.
Meridian Sixth Form College are offering students the opportunity to enrol onto a Cambridge Technicals in Sport & Physical Activity Level 3 Diploma Course.
The qualifications specifically available are:
Sport & Physical Activity Level 3 Extended Diploma (equivalent in size to three A Levels)
Sport & Physical Activity Level 3 Diploma (equivalent in size to one and a half A Levels)
Sport & Physical Activity Level 3 Foundation Diploma (equivalent in size to one A Level)
All of these qualifications are designed to be part of a two year programme of study. A unique feature of the Football Education Programme at Meridian allows students to combine A Level subjects alongside study of the Diploma or Foundation Diploma in Sports qualification which is rarely available with any programme of this type.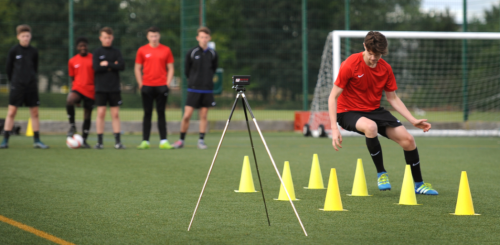 The Cambridge Technicals Sports courses that will be delivered from September 2016 are from the brand new range of qualifications that have been developed for the sport sector. The purpose of this restructure is to allow learners a more        holistic and flexible approach into higher education or employment. The Football Programme has been designed so that students will be able to train full-time alongside their course of study which will enable any aspiring young Footballer or coach to develop their career in sport.
A typical weekly timetable for the students will involve daily practical Football training sessions delivered by 'A' Licenced coaches that will encompass specific aspects of their chosen course, which will also be supported by classroom theory lessons during each day.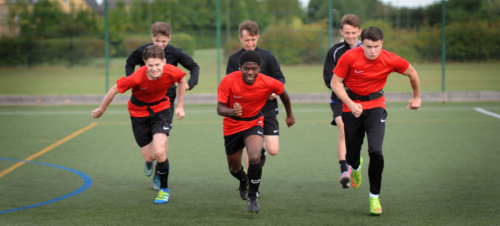 There is an aim to make the study of course material to be as interactive as possible for the student to enhance their learning experience. Students can experience visits to professional Football clubs, Wembley Stadium, University Business Degree Courses, Loughborough University, St. George's Park, in addition there has also been a range of guest speakers from Premier League and Championship Clubs including Physiotherapists, scouts and coaches which is a very distinctive characteristic of the course.
The partnership with Royston Town F.C. will in addition offer the prospect for those ambitious and talented players on the programme to progress into the Club's U-18's youth team who compete in the Thurlow Nunn Youth League and the F.A. Youth Cup. A clear player development pathway is available at Royston Town FC all the way from the youth team, A team, reserves and through to the first team.
At Meridian we feel this newly designed course will complement our current offer of courses, enabling us to develop and build on the successful and dynamic learning community that already exists at the Sixth Form College.