Spencer McCall Tournament Details
The Semi-Final draw has been made for the Spencer McCall tournament this Saturday (13th July 2019). The tournament will take place at Wingate & Finchley's training complex on Barnet Lane – postcode EN5 2DN.
The schedule for the tournament is as follows:
Game 1: Wingate and Finchley v Hemel Hempstead Town – Grass Pitch – Kick Off 12 PM
Game 2: Hendon v Royston Town – 3G pitch – Kick Off 12.30pm
The Loser of Game 1 will then play the Loser of  Game 2  in a Third and Fourth place decider. This game will kick off at 2:00pm
The Final will be contested between the winner of Game 1 and the winner of Game 2. This game will kick off at 2.30pm
The winner of the tournament will be presented with a trophy.
Each game will consist of 30 minutes each way.
It will be pay what you want on the door  – but please dig deep, if you can, as the proceeds will be going towards supporting Spencer McCall  with his ongoing treatment for Erwin's Syndrome (cancer in the bone).
We have also been advised that there are limited parking spaces at the training complex. Barnet Lane is about an 8 minute walk from High Barnet Station on the Northern Line.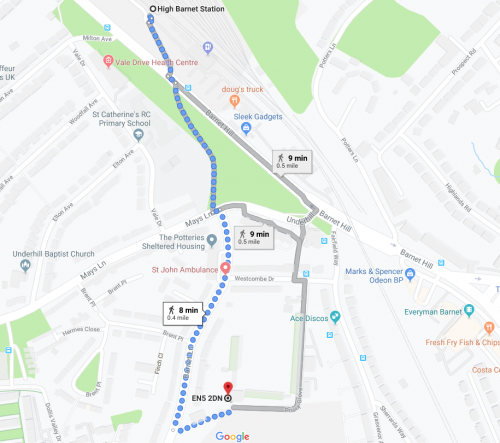 Spencers Story:
In February of this year, just two weeks after his 24th birthday, semi-professional footballer Spencer McCall was given the devastating news that what was previously diagnosed as a stress fracture, following a football injury, was infact Ewing's Sarcoma (cancer in the bone).  Spencer had been unaware that he had been suffering with a tumour in his tibia bone for almost a year with the 'injury' previously being misdiagnosed as a stress fracture.
Ewing's Sarcoma is a rare type of bone cancer. Bone cancer is rare in itself, with only around 600 people in the UK being diagnosed every year. The cause is unknown. Spencer's treatment will be a course of chemotherapy to, hopefully, shrink the tumour, followed by surgery to remove the tumour, and then further chemotherapy.
Everyone at Garden Walk is proud to support this event and we wish Spencer all the best in his fight.
You can read more and donate to his justgiving page here