Catching up with Castle
We recently caught up with Crows boss Steve Castle for a quick chat to discuss last season, his hopes for the coming one, a couple of big signings and the possibilty of unearthing another young gem.
Hi Steve, hope you are enjoying your break. 
Hi everyone! Yes enjoying the summer break (If that's what you call summer)
Can you give us a quick review on how you felt last season went?
Last season was a really strange one in as much as when we had nearly everyone fit, we more than competed and at one stage we were the closest rivals to Kettering Town. BUT injuries plagued us!
I remember one match against Needham Market where we had 3 injuries in one half! – all of them serious!
I can't remember a single lad who avoided being injured at some stage in the campaign, some lads even had more than one injury. It was a nightmare. What was pleasing however was once we started to get some lads back and added to the squad by bringing in Taylor, Luke and Devante, the results started to come back.

What are your hopes for this coming season?
To be injury free!! LOL!!
No, seriously, to once again compete, win more games, especially at home, score more goals especially from set plays.  We want to play in a manner that is positive but also pleasing on the eye.
Tying Adam Murray down for another year was welcomed by the Crows faithful – what does he bring to the team?
Muz is a legend !! We're all so happy that he has decided to stay with us! He must have been very tempted to move on to a higher ranked team but the fact he wants to stay here speaks volumes of the man!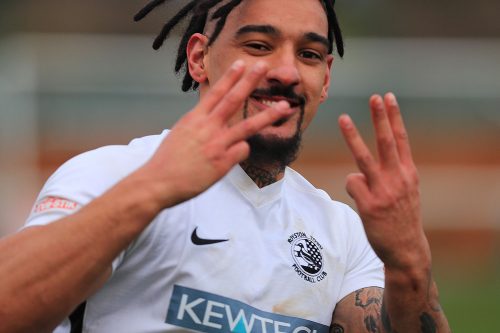 And in your view is he a centre half or centre forward?
As a centre half he is without a doubt one of the best in this League and a League higher! As a centre forward? Well to start with he has only just been thrown up there and in his first season accumulated 13 goals! And I have to add some superb finishes to boot!!
Last season, with Chris Assomabalonga baling on us at the start of the season and David Mooney not quite living up to what we needed. I was struggling for a centre forward who would hold the ball up and be a threat aerially. Well Muzzer can certainly do that!
I appreciate that this will always divide opinions but I always ask my current centre halves would they like to play against Muz and not one of 'em fancy it. With Taylor coming in to the fold, Braths, Ben, Adam Crowther and Harold we are blessed with good defenders and although I know Muz will go back at a moment's notice, I don't think his journey upfront has finished just yet! Sorry opposing centre halves!
You're not really sorry are you?
Nah.
And the return of Scott Bridges was also really well received by the fans – what are you hoping for from him? 
Scott is another great lad. He not only knows how to play the midfield role but adds goals to his game. Surprisingly Hayes & Yeading played him deeper, which he can do, but to have the ability to score goals from midfield is a huge asset!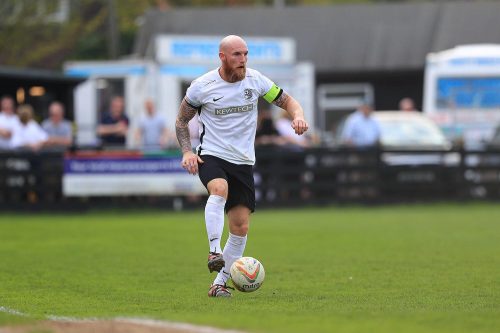 Pic. courtesy of Kevin Richards
Finally, are you and Chris Watters going to unearth another gem like Joe Newton?
Hopefully! We just need to keep hold of Joe first!! But seriously, both Chris and I are always looking to find a promising player or 2!!
Cheers Steve – thanks for taking the time to answer a few questions!