2019 Beer and Music Festival – Lineup announced!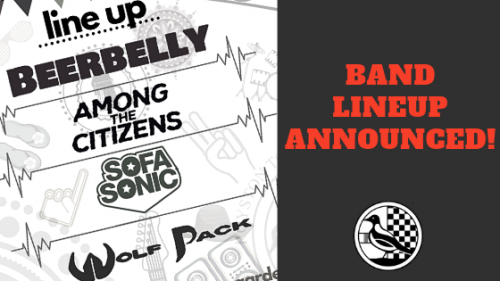 As it's almost time for our Annual Beer and Music Festival we thought it was about time that we announced which bands will be performing on the stage at Garden Walk on Sunday 26th May! So here goes…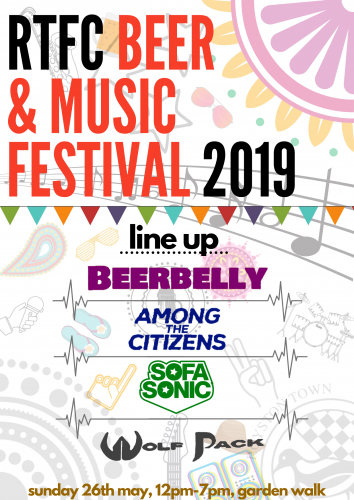 Brief biographies and some clips of the sounds you can expect from them on the day can be found below…
No strangers to our Beer and Music Festival are Beerbelly –  a three piece band from Cambourne in Cambridgeshire. Brought together by chance, Beerbelly's members originate from London, Stoke on Trent and Birmingham and have played in various line ups in their respective home towns before coming together in Cambridge.
Consisting of Drums, Bass and Guitars they specialise in guitar based pop rock music. With a keen following from local music lovers, Beerbelly have established an excellent reputation locally. From acoustic ballads to balls out rock & roll, they definitely deliver!!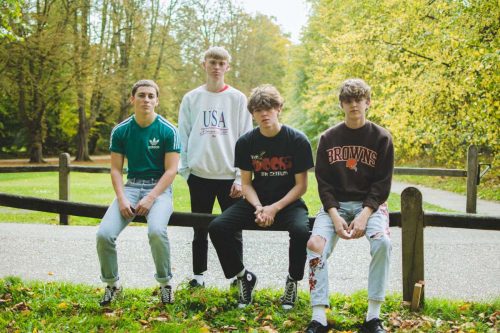 Among The Citizens are a 4 piece indie/alternative band based near Peterborough. The band have collaboratively created their own distinct sound from a blend of influences such as The Cure and Echo and The Bunnymen with their dreamy, infectious chorus guitar, as well as contemporary artists such as JAWS with their lush and memorable synthesiser/ guitar melodies. In more recent years, they have enjoyed the west coast pop scene listening to bands such as HUNNY and Bad Suns.
The band have been included on the Fred Perry Subculture Big In 2019 list and last year were invited to play as part of the prestigious Blogtober Festival. They have supported Eliza and The Bear, The Scruff, Redfaces, Blushes, The Skinner Brothers and DYGL and performed numerous sold out shows  on their debut UK tour which took in cities including Brighton, London, Newcastle, Sheffield and Leeds. The first quarter of 2019 has seen the band support up and coming artists Valeras and Bloxx.
This summer the band will play the 110 Above Festival and they have received radio support from BBC 6 Music, BBC Introducing and Amazing Radio and won the New Music Generator award for Breakthrough Artist voted for by a panel of music experts from across East Anglia.
You can hear their latest single here: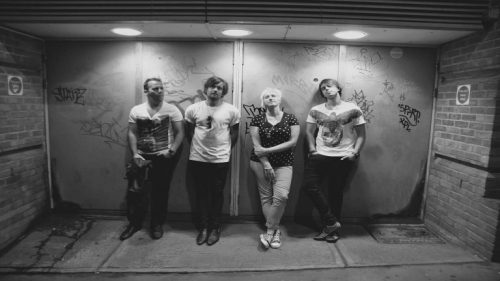 Bluesy-rock / Indie band churning out tracks which make you want to party in the sun! Formed in 2007 in the London area, Sofasonic have since been serving up their unique brand of bluesy, riff-based rock tunes infused with catchy melodies which have been constantly changing and evolving over time. The band consists of Michael Wilson on vocals and lead guitar, Niall Turner on rhythm guitar, SJ Manarin on Bass and Elliot Manarin on drums. 2017 saw the release of their latest album 'Get Made' with two singles 'Whisky Queen' and 'Souls' hitting the market and getting plenty of air time on local radio both in the UK and abroad.
A popular festival band, Sofasonic continue to play festivals nationwide and in 2017 embarked on a European tour which included shows in London, Belgium, The Netherlands, Germany, Denmark and finally concluding at Sticky Fingers in Gothenburg, Sweden.
WOLF PACK
Wolf-Pack is a classic four piece rock covers band with a cool sassy singer – kinda like Tina Turner backed by ZZ Top. This true party band have played our Beer Festival and various other venues in Royston including The Green Man, and the Soul in the Square event. They're sure to get the crowd in a great party mood!
We'll soon be releasing details of the beers and ciders that will be available on the day so keep an eye on the website and our social media channels!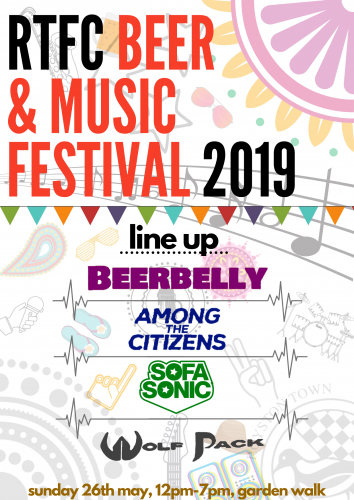 The Beer & Music Festival takes place on Sunday 26th May at Garden Walk. Entrance costs £2.50 for adults and its free for kids. As well as great beers, tasty ciders, a brand new Gin bar  and lots more!