2019/20 Season Tickets – EARLY BIRD OFFER LIVE!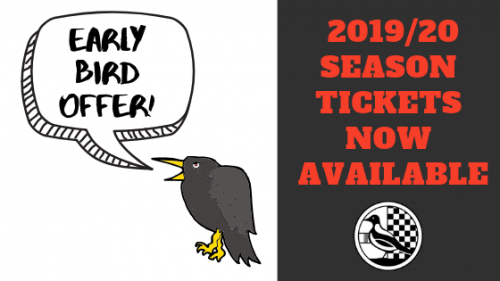 2019/20 SEASON TICKETS – Early Bird Offer now LIVE!
With the current season drawing to an end we are pleased to announce the 2019/20 Early Bird season ticket has now been launched.  Your season ticket will give you admission to all first team , reserve and youth team games for 2019/20 and by signing up before the 30th June you can make a considerable saving on the normal price.
Early Bird (Available until the end of 30th June)
Adult: £150 – equivalent to £7.14 per First Team league game!
Concession: £75 – equivalent to just £3.57 per First Team league game! 
Under 16: £15 – equivalent to just 71p per First Team league game! 
Regular price (1st July onwards)
If you applied on-line last season then you won't have to re-register as your account is already in place and you can just go ahead and pay for the 2019/20 season ticket here.
If you don't have an account go to the 'Tickets' section at the top of this page and choose the season ticket option and then follow the on-line instructions.  If you are a bit unsure about using the on-line option then application forms are now available from the club.
Thank you for your continued support.
UP THE CROWS!