PLAYER PROFILE: Sam Corcoran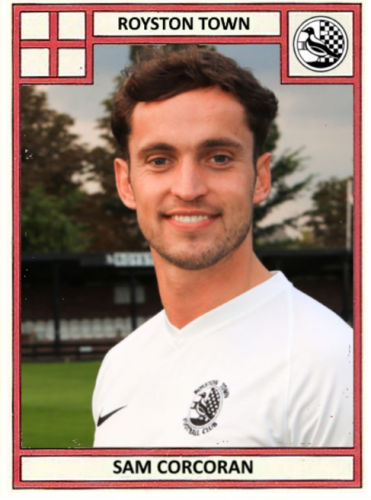 The latest player to feature in our Player Profile series is midfielder Sam Corcoran. Read on to discover which Premier League stars are his toughest opponents and what his biggest disappointment in football is…
Name: Sam Corcoran
Nickname: Corkers
Twitter handle: @corky_32
Previous clubs: Colchester United, Chelmsford City, St Albans City, Hemel Hempstead
Favourite Team: Tottenham Hotspur
 Favourite current player: Current Balon D'or winner Luka Modric
 Favourite player when growing up: Zinedine Zidane – he made the game look so easy and his goal in the Champions League final is something that I will always remember.
Favourite Away Ground (and why): Kettering Away, the fans seem to really like me *Sarcasm*
Most memorable moment in football: Making my debut at Colchester United at the age of 17 is something that always stands out.
Biggest disappointment in football: Having to share a pitch and know that you play the same level as Gus is an all time low 😉
Best player you've played with (and why): Anthony Wordsworth, now at AFC Wimbledon. I'd say that he's got the best Left foot outside of the Premier League.
Best player you've played against (and why): Jack Wilshere or Etienne Capoue.  They are different types of players but both didn't give the ball away which is what football is all about.
Best thing about Royston Town FC: James Potton and Scott Thomas are the reason I play football followed closely by Tommy's celebration at the end of a win.