On The Road With The Crows…..
….A light-hearted preview…..
Next Up:   Methyr Town FC
Comp:       EvoStik League Southern Premier Division
Date:         23rd September 2017, 3pm
So after our weekend and week night exertions in the Worlds Premier Cup Competition (Except don't tell the Spurs Manager that, who thinks the Premier League is far far more important), we turn our attention to the long trip into the land of Sheep, Hills, Marstons, Male Voice Choirs and foreign languages of deepest darkest Wales and Merthyr.
The Town of Merthyr translates to Martyr in the modern Welsh language, hope we don't have too many of these on Saturday afternoon. No blood letting please!
The town is named after Saint Tydfill the daughter of some Welsh King that is really hard to pronounce. In fact most of the town names and languages seem to be in code.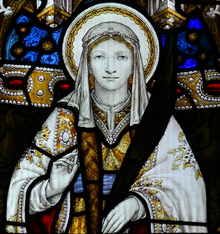 Saint Tydfill. Who wants a town named after you? Jeztown, now that has a ring to it!
We can blame Jamie Bevan the Welsh language activist for encouraging words that you cannae understand, other notable people include the footballer Kevin Gall, the actor Richard Harrison and the progressive punk rock band Man, who had hits with Greasy Truckers party, slow motion and Rhino's, wino's and lunatics. Sounds like a night in Cardiff city Centre!!
HISTORY
In 1909, Merthyr Town joined the second division of the Southern League, which despite being primarily an English league, contained several other Welsh clubs including Cardiff City, Swansea City, Newport County, LLanndfryn, Cwynarkhbhrys and several other un pronounceable clubs that took longer to say than travel to.
After finishing third in 1911–12 the club were promoted to the first division, though they were relegated back to the second division in 1913–14. The Southern League did not operate during the First World War and when it resumed for the 1919–20 season Merthyr were placed back in the top division.
In the summer of 1920 the Football League expanded with the creation of a new 3rd Divison, which was made up entirely of the First Division of the Southern League from the previous season. Despite having finished second bottom in season before, usually a relegation place, Merthyr became a new member of the Football League. Lucky, lucky Merthyr!
In their first season in the Football League, the club had a much better season and finished 8th. This, however, proved to be their most successful league season, and it was followed by a gradual decline: 11th in 1921–2 and 17th in 1922–3. The 1923–4 season saw a slight improvement in league form as they finished 13th, but the major news was their appearance in the final of the FAW Cup though they lost 1–0 to Wrexham in a replay after a 2–2 draw.
From then on the club declined further, and finished bottom of the Third Division in 1924–5. Although they finished 14th in 1925–6, in the following seasons the club finished 17th, 21st, 20th and then bottom again, and were kicked out of the Football League in 1930. They were replaced by the ill-fated Thames FC During their penultimate season in the Football League the club had their best season in the FA Cup, getting past the first round for the only time, before losing to Watford in the second round.
The club dropped back into the Southern League, but lasted only four seasons, before ceasing to play in 1934.
Penydarren Park, home of Merthyr Town Football Club.
The new club
In 2010, Merthyr Tydfil F.C. of the Southern Football League Premier Division were liquidated despite finishing the 2009–10 season 17th of 22 clubs. The club was reformed under the name of Merthyr Town and consequently were required to drop three divisions to begin the 2010–11 season in the Western Football League Division One. The club was also forced to switch grounds, and left Penydarren Park to take Rhiw Dda'r, the home of Taff's Well A.F.C. as their new home ground. In their first season they won Division One and were promoted to the Western League Premier Division.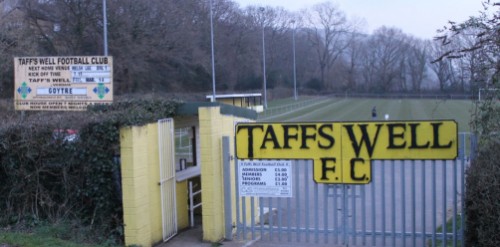 Taffs Well, a tempory home from home. I'm pretty well too!
The newly promoted club once again called Penydarren Park home. Their first match back at their spiritual ground was a 1–9 defeat to Welsh Premier League side Llanelli in a pre-season friendly in July 2011. However Merthyr went on to secure a second consecutive championship and with it promotion to the Southern League.
On 6 April 2015, Merthyr Town were promoted back to the Southern League Premier Division only five years after being expelled, following a 9–0 home win against Bishops Cleeve.
The club is fully owned by the supporters' trust.
Their Season So Far
Currently enjoying a steady if unspectular start to the season, the Martyrs occupy 11th spot, two above the Crows with 2 wins, 4 draws and one defeat to their name. Last time out saw a 2-1 defeat against Havant & Waterlooville in the FA Cup, before that in the league they played out a very dull and uninspiring 0-0 draw against our local adversaries, Bishops Stortford (we owe them a couple don't we!)
Ones To Watch
We will start with the extremely prolific and nomadic striker Stuart Fleetwood! Fleets as he likes to known as by no-one started out at Cardiff City and has had spells at Hereford United, Forest Green Rovers, Luton, Charlton, Eastleigh, Sutton and Bath City (Got your breath back after reading those!). With 120 league goals to his name, this boy is on first name terms with the Onion net!
Goal getter Stuart. Is he Liam Enver-Marum's twin?
Pacey winger Kerry Morgan came through the Swansea City youth ranks and has some pedigree, extremely dangerous in front of the net, Kez smacked in 39 league goals in approx. 70 appearances for Newport County. His crossing aint bad either!
Battling midfielder Kyle Copp is another youngster to come through the Swansea City ranks. When release he joined Yeovil on non-contract terms before signing or the Martyrs in December 2016. Hard but fair in the tackle, he is gaining a reputation for breaking play up. Cannot be long before he gets another crack at the pro game.
The Gaffer
Former Welsh international Gavin Williams became manager of the club in 2016 after enjoying spells as both Assistant Manager and player. A guy who has enjoyed an extremely successful career as a player. Gav started out at Hereford United where he scored 4 goals in the record 9-0 demolition of Dagenham & Redbridge in front of the Sky cameras. A successful spell at Yeovil followed before then Championship side West Ham forked out £250,00 for his services. Spells at Slipswich and Bristol City followed before a permanent return to Yeovil in 2011.
Have We Met Before?
Simple answer, no! Not sure if Royston Town have even played in Wales before? Hey, we are now playing European football! Makes a change to St Margaretsbury, Colney Heath and Buckingham Athletic.
Wales. The start of our European Adventures?
Score Predictions
Whitenoise:              MTFC 0-0 RTFC
Merthyrflips:           MTFC 2-0 RTFC
Artymarty:                MTFC 1-0 RTFC
Jez:                             MTFC 1-2 RTFC