Kev Wilson Calls it a Day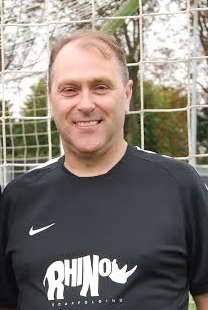 After being in involved with Royston Town Football Club in many capacities for over thirty years, Kev Wilson has decided to step down from his Reserve Team management role. Everybody at the Club thanks Kev for all that he has done & we wish him all the best for the future.
Here's what Kev had to say:
"I first watched The Crows in 1969 and then first played in 1979 for the Youth. Three years for the A Team followed, doing all of Alan Barlow's running for him. Then caught the 3b virus that kept me away from football, (Birds, Booze and Baccy).
I returned as a Colts manager in 1999 and was involved in the merger with RTFC at its concept, going right through to Under 18's manager before re-launching the A Team in 2006/7 season with mostly my U18 side as the team.
I had to source a league in which to play, a ground from which to play (Barkway) and a kit to play in.
In Nov 2007 I took on the role of Ressie Manager.
The highlight of my time was the rebirth of the A Team, and in trying to provide local lads the chance to play for Royston and a bridge from Youth to Adult football.
My low point was the severe injury suffered by my good friend John Bitting over at Dunstable.
I have worked with:
–  1 President
– 3 Chairmen
– 4 First Team Managers
– 4 assistants (inc my time with Ada)
– 6 secretaries
– 6 sports injury bods.
I feel honoured to have served my home town club and would like to express my most sincere thanks to the Board, the supporters and most of all everyone that has been part of "my" changing room over the years.
I will be down the Club as much if not more than ever, so see you all soon.
Thanks Again,
Kev".
Crows Chairman paid this tribute to Kev:

"For me Kev Wilson is what non-league football is all about, he has been with the Club for over 30 years in so many different roles but despite having to step down from Management still wants to stay involved in some capacity. Kev has never been a conventional manager and often did things his way but largely with great success, his strength was his incredible ability to motivate players with sheer passion and drive and they are not qualities you can coach. He has seen the club go through good times and bad but has never lost that passion or his sense of humour which is as sharp as it has ever been.".