Sign Up With Betbright – Earn The Crows £40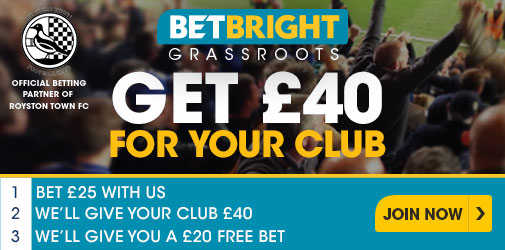 We are happy to announce our new partnership with BetBright.com. Our partnership with Betbright allows us to raise unlimited funding for the club for each account opened through
betbright.com/grassroots
.
With the season having recently kicked off and the matches coming thick and fast, those of you who fancy a bet could also benefit your club by raising much needed funding for the 2014/15 season.
NOTE: RTFC Players, Staff & Club Officials are not permitted to bet on football as per FA Rules.
Open a BetBright account at
betbright.com/grassroots
(it is important to sign up here and not the general BetBright site, as the accounts will not be attributed to the club otherwise.)
Tell your friends about the chance to sign up and support the Crows, to increase the amount that can be raised.
For every person that bets £25 or more (it doesn't all have to be spent on the one bet), Royston Town FC receives £40 as well as the person then receiving a free £20 bet.
To place this into context, if
5
people did this,
£200
would be raised.
15
people would raise
£600
, whilst if we can muster
25
people on behalf of the Crows we'll earn
£1,000
.
With unlimited amounts of money to be made there is major scope for the club to raise funding for pitches, kits and facilities for the season ahead.
For more information on how to get involved, visit Betbright by clicking
here
.
When you've opened your account please let Alan Barlow know as he is monitoring the total number of accounts – his contact details are Mob: 07966 296614 or email: alan@abaconsultants.com.