At Home With The Crows
Next Up: 'The Bishops' Of Bishop's Stortford FC
Crows v Bishop's Stortford FC
Kick Off: 19:45 Tuesday 14th January 2014
The Herts Charity Cup Semi-Final (say it in an American accent, sounds kinda good!)

So after our dismantling of Uxbridge last Saturday we are back to cup action and an encounter against near neighbours Bishop's Stortford FC.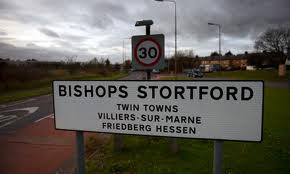 I love going to "Stort", I've pulled several times there in the past so it has happy memories for me!
Bishop's Stortford was a Roman settlement built on the old road of Stane Street. It was abandoned in the 5th century after the fall of the empire (cue Star Wars music) and a new Saxon settlement grew up on the land. The new name of this habitation was Steort-ford meaning "Tail Ford", roughly translated to " Ford at tongues of land" so now you know!
In more recent times the Town became the main evacuation centre for Britons during World War II, including the entire population of the Clapton Girls Technology College. This has been mirrored by the entire Polish and Latvian communities who work for that airline that has the same coloured Uniform as a well known sewage and drainage company.
Bishop's Stortford has seen huge growth and is classed as a commuter town with excellent links via the M11 and Greater Anglia trains. I now sound like I am writing an Estate Agents paraphrase!
Famous people from these parts include the most annoying radio presenter in the world Greg James. The man makes me cringe every time I hear him, Glenn Hoddle of Karma fame and oh, Tottingham Hottyspurs and finally the actress Caroline Guthrie of Taggert fame. There's been a moordor!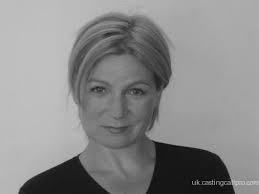 HISTORY
They were formed in 1874 and joined the Stansted & District League becoming winners in 1911 and 1913.
After knocking around the local leagues, they joined the Delphian League in 1951 and became Champions in 1955. When the league disbanded they were founder members of the Athenian League Division 2. Success and promotions followed with regular cup successes mixed in. By 1971 they had reached the first round proper of the FA Cup where they were hammered 6-1 by Reading at a packed out Elm Park.
In 1973 they then reached the second round of FA Cup before being dispatched 3-1 by that lot up the A1(M) that can never be named.
Season 1977-78 saw relegation after finishing bottom of the Isthmian League Premier Division. Promotion came in 1981 after they were crowned Division 1 champions and the FA Trophy was secured in the same season by thrashing Sutton United 1-0 at Wembley!
1982 saw revenge against Reading by beating them in the FA Cup and a thrilling FA Cup run followed before they were eventually beaten by Middlesbrough after a replay.
Up and down league placings followed during the 90's before promotion to the Conference South was achieved in 2004. They were in my eyes badly treated by the FA, when due to the financial misdeamours of Rushden & Diamonds, the Bishops were transferred to the Conference North. Why oh why do the gown ups at FA HQ not pick up a map of the UK at times. How on earth can the likes of Bishops Stortford, Histon, Gloucester and Oxford be considered Northern outposts?
Some relief came last season when the FA eventually saw sense and transferred the club back to the Conference South. This season has seen the club perform magnificently in the FA Cup and are in a very strong position in the league under the tutelage of Rod Stringer.
Their Season So Far
Currently lying in 5th place in the Conny South with 10 wins, 4 draws and 5 defeats, but it is their FA Cup run this season that has been especially pleasing and the emergence of several talented prospects. Although the prolific Kyle Vassal has departed Oop North to that club up the A1(M) that cannot be named.
Ones to Watch
A team full of talent and I will start at the back with defender Johnny Herd. Young "Herdy" is into his second season with the Blues after signing in the summer of 2012. A truly excellent defender that reads the game superbly. Was very close to signing for Cambridge United a couple of years ago. Previous Clubs include Southend United where he made 42 appearances.
Club Captain Reece Prestedge initially joined the Bishop's in 2004 and impressed so much that a move to League 2 side Dagenham & Redbridge followed. Excellent with a dead ball, the Crows will need to be on their guard Tuesday night if he plays.
Leading the line could be one of my favourite Cambridge United players of recent times and the exotically named Liam Enver-Marum. A very strong attacking player that has an eye for the onion bag. Had a prolific spell at then Conference Premier side Ebbsfleet United before linking up with Alan Devonshire's Braintree. Never got a fair look in at the Iron and was snapped up by Rod Stringer. Former clubs include West Ham, Cambridge United and of course Ebbsfleet.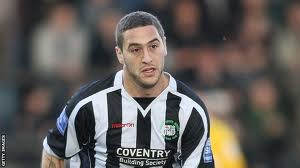 The Gaffer
One of footballs nice guys is Rod Stringer. Always a pleasure to talk to and in this writer's opinion, very surprised he has not been snapped up further up the leagues. An excellent eye for a player and not afraid to blood the youth as seen by the talented squad he has put together.
Have We Met Before?
During the 80's and early 90's we met several times in League Cup action, although I cannot find any archives to show the results. They have been expunged from the local newspaper offices (criminal in my eyes, truly criminal!)