At Home With The Crows
NEXT UP: 'The Saints' Of Chalfont St Peter AFC
Crows v Chalfont St Peter
Calor League: Division One Central
Saturday 21st September 2013 3pm kick off

So after Saturday's fantastic result against the Generals of Chesham and Monday nights drawn game against the SYCOB's of Beaconsfield we are back to home league action with a match against the Saints of Chalfont St Peter AFC. Hopefully it will not be a case of "Oh When The Saints Came Marching Home!"
But onto the little village of Chalfont in the Chiltern Hills, we seem to be playing a lot of these teams from these parts recently?
At the time of the Anglo-Saxon Chronicle in 949ad, a publication that Rupert Murdoch has unsuccessfully acquired, the area was known at Caedeles Funtan meaning Caedele's Fountain. The three villages in this area were then split up with the suffix St Peter taken from the local church of St Peter. Now you know!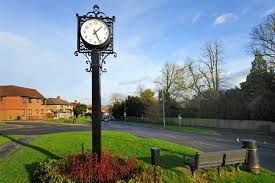 In more recent times it has become a commuter village with many a person making the short trip to London from nearby Gerrards Cross. I had a girlfriend from these parts once, she had a fascination with uniform. Needless to say we did not stay together very long. I could not fit into her naughty nurse's outfit.
Winter nights must be very cold in Chalfont as in 1901 the population was only 700 within 100 years it had grown to 13,000 to become one of the largest villages in England!
Famous folks of from these parts include the Scottish Actor John Lawrie who played Private Frazer in Dad's Army. We're Doomed, We're doomed. Miss Marple aka Dame Margaret Rutherford was also from the village.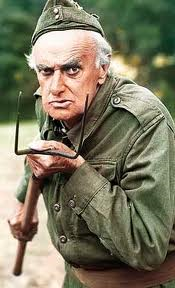 We're Doomed, We're Doomed!
HISTORY
Formed in 1926, they played at Gold Hill Common. After World War II they joined the Great Western Combination before moving to the Parthenon league (Yep never heard of it either) in 1958.
Another League switch occurred in 1960 when they became members of the London League before switching to the Spartan League in 1963. Itchy feet were the norm for The Saints as they then joined the Athenian League after 12 years in the Spartan.
They were runners up in 1984 and gained promotion into the Isthmian League Division Two North. After a couple of years they were swapped by the authorities into the Southern section and became Champions in 1988.
A period of mediocre finishes followed before relegations in 1994 and 2000. They decided to leave the delights of the Isthmian League in 2006 for the Spartan South Midlands League. They were runners up in 2009 and 2010 before becoming Champions in 2011 with 103 points finishing 13 points ahead of our beloved Crows.
Also in this season they had a superb run in the FA Vase reaching the Semi Finals at the expense of Totton & Eling, Clanfield, Selsey, Dunston Federation, Christchurch, Needham Market before bowing out to Glossop North End 6-5 on penalties.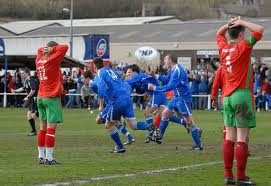 Out on Penalties, heartbreaking!
Their Season So Far
Struggling at present and sitting 5th from bottom the Saints have not recorded a home win yet and have scored only 1 goal. Away from home it is slightly better reading with 4 out of a possible 9 points won.
The Saints started the season off with a great 2-0 win at North Greenford United before home defeats against Aylesbury United (3-1) and Dunstable Town (1-0). They then drew at League newbie's Potters Bar Town (1-1) before reverses against Egham Town (2-0) and St Ives Town (1-0).
Ones To Watch
Experienced Striker Scott Fitzgerald joined the Saints in 2012 from Wealdstone. With bags of league experience with the likes of Watford and Brentford, hotshot Scotty has a keen eye for goal and is a tough competitor to play against.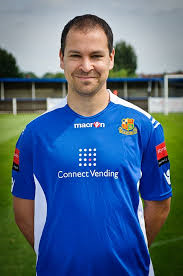 Scotty, a Brentford Leg-end!
At the back is Ronayne Marsh-Brown who is a recent summer signing from Aylesbury FC. A great leader on the pitch, M-B is known for his superb defensive skills and is excellent in the air. The Former Fulham and Macclesfield player is a real coup for the club.
Between the sticks is another man with a double barreled surname, bit posh in Chalfont is it not? Michael Power-Simpson signed from Beaconsfield SYCOB and has made the number one jersey his own. Commands his defense superbly and is very difficult to beat.
The Man In Charge
Danny Edwards is a real life legend in these parts. He is now into his tenth season with The Saints after joining them from co-incidentally the other Saints of Southampton. He was persuaded to do this by his brother who was playing for Chalfont at the time. After taking over the hot seat he has had mixed fortunes due to the precarious finances of the club, but led them to the SSML title and the FA Vase Semi Final. Danny, we salute you.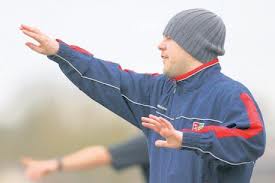 Danny Edwards: A Massive Saint
Have We Met Before?
On many occasions have our paths crossed. In their championship winning season of 2011 we were hammered 5-0 at Garden Walk before securing a 2-1 victory at Chalfont by which time the title was safely secured in Buckinghamshire.
Last season saw us cruise to victory at Garden Walk by a 4-2 score line courtesy of a Kaan Fehmi double, a Joe De La Salle spectacular and Luke Robins special. That last goal really was special. The double was secured in December courtesy of a Kaan Fehmi penalty and another rocket from Luke Robins in a closely fought 2-1 win.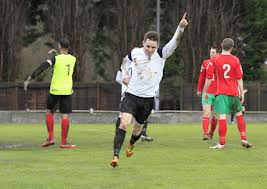 Luke Robins: The Saints hate seeing this guy!
More of the same on Saturday please lads.
Jez Izod