The Legends Speak…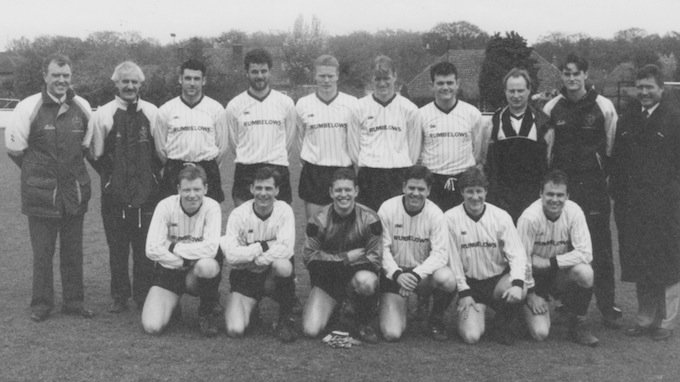 Joff Dobson
Hi Joff and thanks for talking to http://www.roystontownfc.co.uk

Joff, can you remember your first ever game in Royston Colours?
I played for Royston Town 'A' at 15. 1st team was away at Flackwell Heath. I played left back (1990).
Your first ever goal?
Playing for Royston Town 'A' away against a team in Hitchin (1986).
For the 1st Team it was at home in the Herts Charity Shield. I cannot remember the team (1990). I think I scored 2 that day. Edit: It was St Mags and yes you scored 2.
Your best ever goal?
I have scored a few but my best goal was away at Arlesey, a brilliant cross from Martin Westcott was just going away from me, did not really think about it and just produced an overhead kick straight into the top corner.
What is your enduring memory about playing for Royston Town FC?

From the A team to 1st team was made up from mainly local lads and were not paid. Our achievements as a club were brilliant. The opportunity to walk out at cup finals or play at Vicarage Road and other grounds with your mates is something I will treasure.
What was your best ever experience with RTFC?
It would be the attention and reactions from other players or supporters. For the right or wrong reasons it happen most games. That was just me.
And your worst?
I was released from the club by the Manager at that time. I remember getting a phone call on the Sunday morning. I still have not been given a reason why I was released.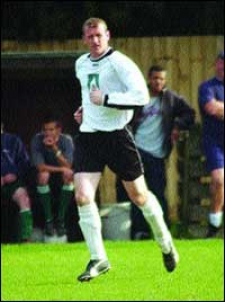 Who was the best player that you played with at RTFC?
I had the opportunity to play with many good players. Matt McQueen, Martin Westcott, Duncan Easley, Doug Bailey, Stuart Brown, my brother Simon the list can go on. The best player I was with is Paddy Butcher. I still have not seen a striker as good as him today.
Who was the best manager that you worked with?
Again I have worked with many managers. Danny Tyler (Reserves) and Tony Galvin (1st Team) are up there but I will always remember having Bernie Brown as my manager in my youth days. He was great.
What was your funniest moment playing for Royston?
Some moments will stay in the changing rooms. But I will always remember when we played Aldershot away in front of a crowd of over two thousand. We could not afford a new kit that season and the club tried to make our present kit look a little more respectable. When we were handed out our shirts we realised that various numbers had been sewn on upside down.
Which other clubs did you play for?
Letchworth, Haverhill.
What do you think of the present team?
I have only been down to see the team only about twice since I stopped playing 7 years ago. But what I read and hear the future looks good for the club.
Thanks Joff, Hope to see you at G.W soon.
Interviewed By Jez Izod