The Legends Speak….
1) C

an you remember your first ever game in Royston Colours?
It was a long time ago and I can't remember who it was against but I can remember I was 17, it was away, involved a very long coach journey, I was sub and didn't get on. I previously played for the Youth, A and Reserves.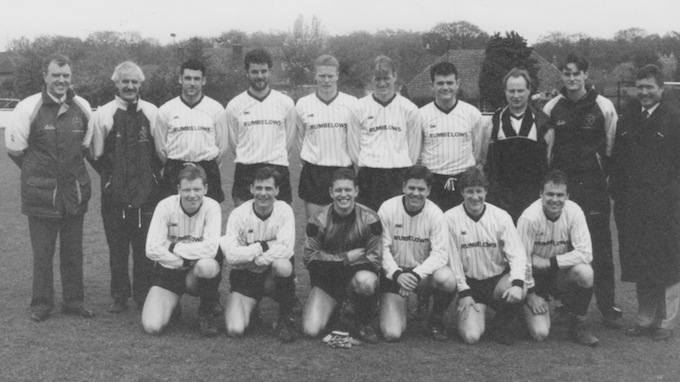 Stuey…. He is in the trackies!
I think it was against East ham, away at their place. From a corner, goal mouth scramble, great finish into an open goal from a yard!!
In my time at Royston, most was played as centre back although at times was used as the archetypal target man upfront. Best goal was during a cup match at home (can't remember who against) playing up front. Cut in from the left and hit a right footed drive from outside the box to top (ish) corner (ish).
4)

What is your enduring memory about playing for Royston Town FC?
My enduring memories of playing for the club relate to how close everyone was a really friendly club, both on and off the field. For the vast majority of my several years playing for the club most of the team were local lads that played previously together at school, youth football or lower league football.
5)

What was your best ever experience with RTFC?
Playing against Aldershot at their place in the league in front of 2700 supporters, Town got an ovation from their supporters for the way we played too.
Home game against the dirtiest team I've ever played against, London Colney. The ref was awful and wasn't helping the situation at all. He eventually sent 3 off but should have been more.
7)

Who was the best player that you played with at RTFC?
Best players both for the same reason, Paddy Butcher and Tony Galvin (even though he didn't train and shouldn't really of been playing) . Both quality players that just had that extra class.
8)

Who was the best manager that you worked with?
9)

What was your funniest moment playing for Royston?
Funniest moment involved Mr Galvin again. During warm up one game I hoofed the ball skywards and shouted "bring it down in one and i'll give you a fiver" to the players that were around. Tony shouted his name which created much banter as the ball fell from the sky. He attempted to control it in one, which went badly. The ball bounced back off the floor, then smacked him in the face!!
10)

What other clubs did you play for?
Never played for any other clubs at that standard. Played local football after leaving Royston.
11)

What do you think of the present team?
Decent footballing side with huge potential. I think the signings of Adie Cambridge and Craig Hammond bring the extra experience the team need to move forward.
Thanks Stuart, hope to catch you at the GW soon.