The Legends Speak…..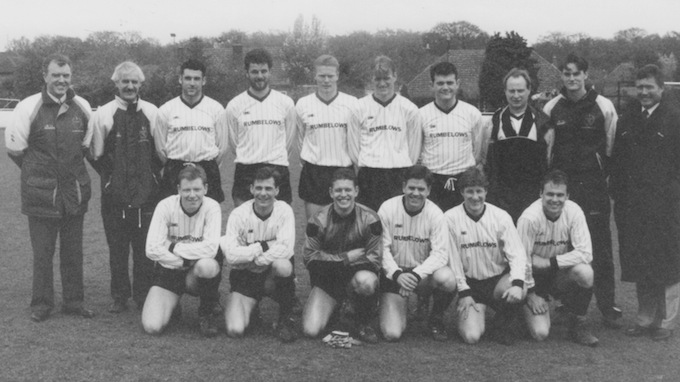 Simon, can you remember your first ever game in Royston Colours?

Obviously I played Youth team at 16 for the Crows, and also Reserves and A – Team. My first senior first team league appearance was Rainham away 1987 – 1988, result I think was 0 – 0

Your best ever save?
Too many to mention, the one that sticks in my mind though was against Tiptree away in the FA Cup. winning 0 – 1, last minute of normal time I saved a penalty!
What is your enduring memory about playing for Royston Town FC?

Playing Aldershot home and away

What was your best ever experience with RTFC?
I have many, but playing at Vicarage Road against Watford the day after my son Joe was born (lost 5 – 0), but we had our names on the giant score board! John Pratt was their manager back then.
And your worst?

FA Vase against AFC Sudbury, I collided with my defender and fractured my Kidney!

Who was the best player that you played with at RTFC?
I have played with many great players, Tony Galvin, Phil Driver, Denny Tyler, but Paddy Butcher was the best player I've had the privilege to play with.

Who was the best manager that you worked with?
Most of the Managers I've worked with have all had great attributes but Tony Galvin was definitely the best

What was your funniest moment playing for Royston?
Playing away at Tilbury and giving Dave Brown a lift back to Stevenage only for him to remember half way round the M25 on the way back, he had driven to Tilbury in his OWN CAR!

What other clubs did you play for?
NONE!, Does Spurs Legends count?