Travellers Tales: Uxbridge FC
Crows On The Road: Jez's Report
Crows Soar High Over Uxbridge
Saturday 9th February 2013
Result: Uxbridge FC 0-2 Royston Town FC (Robins, Fehmi)
Attendance: 84 (Approx 20 Travelling Crows)
The sprightly band of travellers left Royston at 12.30pm and set south for the wonders of Uxbridge. A pretty straightforward journey negotiating the A1(m) and the M25, plus several lunatic drivers and we reached the home of Uxbridge FC at 1.15pm, just in time to see the second half of the Spurs v Geordies match.
A massive complex but a little out of reach of the important travellers facilities like the pub and Burger King! The Honeycroft is a developers dream with a spacious car park and loads of green open spaces. In fact more green spaces were found here than you would in Central London!
You entered this complex through two white doors and were brought back into the 80's. I am not complaining though, very clean but very small. Kit bags were not allowed in this room and even Kevin the Photographer had to dispose of his equipment in the board room.
You entered the main ground through a rickety old turnstile and were then greeted by a late 70's set up. In fact most of the music being played came from several decades earlier! Even Terry did not recognise the tunes and Terry is well old! A large stand with red seats was placed central to one side with the dug outs either side of this. Across from this stand was a small covered seated area with standing either side.
Covered terracing could be found at either end and this is where most of the home support could be found.
The playing surface seemed to be in excellent condition considering the recent weather and it was also a wide area which suited our passing game.
Served through a hatch in the main building, the choice was excellent. The freshly made ham roll was superb and this was washed down with tea served in china cups! For an extra 20p you could have a mug! Sausage rolls and pies were excellent according to fellow Crows. The whole food set up reminded me of that classic 80's comedy "Dinner Ladies!" I was half expecting Victoria Wood to leap out and serve me!
£1.50 for a really good read. Lots of excellent information to furnish readers with. This publication was not rammed with advertising and you could tell that it had been lovingly produced. I especially enjoyed the "It's all in the past" feature. More so as it reminded me of that happy day in October 2012 when I was informed that my divorce was coming through. Fond Memories arh!
Apart from negotiating a door that could have wiped out someone standing the other side, these were a clean affair. You did have to bang the hand drier to get it functioning and the cubicles were very close together. So it was quite friendly inside the gents!
Did not blow your eardrums out which was a plus. The announcer read the teams out giving the away fans time to cheer every name, including the home side too!
On the music front, I only recognised one song from "M People" and as I mentioned earlier, the rest of the tunes came from ancient times. Even Bruce Forsyth would struggle in a game of "Name that tune".
A friendly bunch but were pretty subdued throughout the match. Only got going when the referee made some quite astonishing decisions. The biggest cheer of the day came when the home side were awarded a free kick on 69 minutes.
Some of there fans joined in with the minutes applause for a sadly departed Royston lad, which was a nice gesture.
About 20 of us made the 110 mile round trip and were pretty loud from start to finish. Lots of "Come On You Crows" could be heard, much to the discomfort of the home manager, who asked us to politely stop. Cue a loud NO! All in good humour though.
On 8 minutes there was a minute's applause and chanting for Luke Reynolds, a Royston Town fan, who lost his battle against cancer last week, aged just 20.
As the players came out for the second half, they were greeted by their names being chanted from the away support. This brought smiles to the players, especially Will Norris who enjoyed his little Willy song!
Not a pretty match to watch, but very professional and an excellent team performance.
Two great goals separated the two sides and apart from the score line, it was a pretty even match.
First half saw the Crows plough forward at every opportunity, exploiting the two flanks. Eddy and Spenny in the middle were pretty effective snuffing out the forays by Uxbridge.
Second half was pretty much back to the walls stuff. Will Norris produced several "Worldy" saves and was not scared to dive at the feet of the attacking Uxbridge players.
Controversy raged two minutes into the second half, when Kabamba was brought down by Jack Bradshaw. The referee claimed not to have seen it, so a very lucky escape for the Crows.
The officiating was strange to say the least when play was interrupted several times to change the match ball. Royston could have had a penalty of their own when Robins was brought down by the home keeper. No said the ref, to the derision of the away bench.
Royston were efficient in playing out time and it was three precious points after a grafting team performance.
Crows, I think I have met the new Mrs Jez (Probably in my dreams! Waiting for Tony Choules to introduce me to her!) Absolutely stunning to say the least and if you don't believe me, I have attached a photo of her! Yowser, Yowser!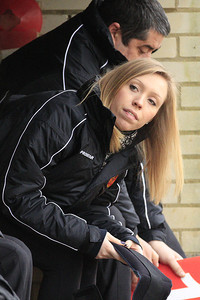 Richard was very disappointed with this trip, only spotting several Sparrows and 4 seagulls swooping and diving at the Honeycroft. I was very happy though, apart from the stunning physio (I am swooning) there were several beautiful dark haired birds in the bar!
Difficult to choose after such an excellent team performance. The decision in the car though was pretty unanimous though. Step forward Will Norris! After several weeks out through injury, you would not have noticed. Pulled off several crucial saves to keep the Crows in the match. Honourable mentions to Luke Robins for a busy performance, Kaan Fehmi for a wonder goal and the entire back line for some excellent defending. Actually, Honourable mentions to the entire team!
Mileage for me so far (Round Trips)
1,451.9 Plus that round trip to stupid Burnham Ramblers.
Jez Izod (With additional reporting from Richard Scott, Caroline Scott and Ian Collicote)