FA Futsal Fives: Royston Winter League
The new FA Futsal Fives Winter League will start on Sunday 7th October.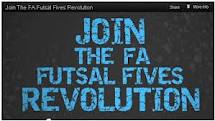 Get your teams together, five-a-side plus subs played in Royston Leisure Centre Sports Hall with official Futsal goals and Futsal balls! It is £30 per team and we will allocate you an official FA Futsal referee whereby you will play a 40 minute match!
There are also some decent prizes to be won – league champions will win a trophy, a futsal ball, automatic qualification to the County Futsal Competition, entry into a draw to play an exhibition match before an England Internation Futsal Game, and one free FA Futsal Match.
ALL teams that complete all their fixtures, pay for all their games and avoid any bookings will win entry into a draw for a new kit kit – 7 shirts including GK top.
We need a minimum of six teams and would ideally love to see eight teams participating, so get your team registration forms now from Amy Shepherd – amy.shepherd@stevenage-leisure.co.uk or Jorden Gibson – jordengibson1@yahoo.co.uk.